Another trip down the Air Canada Aeroplan rabbit hole
It all started when MSC cancelled my free cruise.
My wife and I, having participated ourselves in the casino cruise matching shenanigans about which I've written volumes, had a free cruise booked for the family next April and our award flights were all set and booked also. Then, MSC cancelled our cruise, which sent us scrambling for replacement plans. In the process, I slipped back down the Air Canada Aeroplan rabbit hole and came out of it with plans that excite me for next year.
That's less because of the specific "deal" I'm getting and more because Air Canada Aeroplan's frequent flyer program is designed for people who live for complex, exciting award redemptions. With the largest number of partners and the ability to mix and match and create deliberately circuitous routings, it's just a lot of fun to nerd out on the possibilities. It quickly turned into a bit of a puzzle game that made award searching fun. A lot of this post is about that process, but a seemingly unrelated takeaway that will be more relevant to many readers is that summer 2024 business class award availability to Europe is plentiful right now from a number of cities. I you've got Europe on your mind (particularly for the summer Olympics), now is your time to plan. If you want to skip ahead and just read about that, see the section titled "Summer 2024 awards to Europe are actually pretty easy to find right now".
A rebooked MSC cruise
I had originally booked a European cruise during my son's spring break using the Ocean Prime offer for a free MSC cruise (full details about how you can turn a $95 credit card into a free cruise anywhere in the world). A couple of weeks ago, I got an email notifying me that our cruise was cancelled. It was a comedy of errors: the letter had the correct ship name at the top, but then went on to mention our cruise on [insert name of a different ship] was cancelled because one of the highlights was a port stop in [insert country where there were no port stops on my cruise], so they had to cancel.
In reality, it looks like they just stopped offering the cruise I was on and moved the ship to an entirely different itinerary. The letter was a little confusing: it said that we could choose any alternative ship or sailing date except a holiday week and then it went on to invite us to check out cruises sailing by the end of May 2024. It was not clear whether any ship and any date meant any before May 2024 or they were simply encouraging us to rebook sooner rather than later. The Ocean Prime offer was supposed to be booked and sailed by 7/1/23, but I was hopeful that "any ship" and "any date" would mean that we could use it on an August cruise in Europe since my kids won't be in school or summer camp in August.
The good news is that we were indeed able to reschedule the cancelled cruise for August. The process to move to the replacement cruise we chose in August was smooth sailing (see what I did there?).
The bad news is that I now had to get to and from Europe during peak summer travel dates. Award availability to and from Europe can be really hard to find in the summertime, so I knew that I needed to make plans pronto.
Existing mileage balances I wanted to use and goals
Thanks to the cancelled April trip and some previous transfers to Avios and Virgin Atlantic during a transfer bonuses only to ultimately decide not to book whatever it was I originally had in mind, I had a few existing mileage balances that I was interested in using on this trip if possible. I have enough transferable points to either top off or transfer to a different partner if need be
285K Air France / KLM Flying Blue miles
340K Air Canada Aeroplan miles
150K Avios (spread across British Airways, Iberia, and Qatar)
180K Virgin Atlantic Flying Club miles
Those aren't the only programs where I have existing miles, but I began my search with an eye toward using them.
For the (now cancelled) April cruise, we had used Flying Blue miles for Virgin Atlantic to London and had planned to continue on separately to Scotland. Our kids use an educational app that features some info on Stirling Castle and they keep asking if we can visit it, so we wanted to incorporate a trip there to indulge their current interest if possible (and we still hope to do so). I had booked our return from that now-cancelled April trip as a fully flexible Aeroplan award at 85K points each. My reason for booking fully flexible is kind of silly: I've sometimes seen four seats in Lufthansa First Class close to departure and I think it would be a lot of fun to fly that home from Europe, so I had booked a fully flexible business class award as a placeholder figuring that I'd later change to Lufthansa first class if possible or try to change to a lower-priced award closer to departure.
I initially assumed I'd use the same Flying Blue and Aeroplan miles for something similar in August, but then I got to daydreaming about Aeroplan awards and I started to think bigger. School doesn't start until September and we have no commitments during the month of August 2024 apart from work (which we can do from anywhere). We've long been flirting with the idea of homeschooling either part-time or full time over the next few years to give us the opportunity to educate through travel (we had been entertaining this since long before kids; at least a decade ago, we read an article about two teachers who took their kids out of school for a year for a one-way bicycle journey from Alaska to the southern tip of Argentina, teaching math through currency conversion and history through sightseeing). I thought that perhaps we could turn August 2024 into a low-risk month to test the waters on that idea: we'd get a chance to see whether and how we can balance traveling on an extended basis with work and trying to teach lesson plans while maintaining everyone's sanity. I started to look beyond the European cruise to see what we could do.
First thought: stop in Europe en route to Asia
As I re-thought about this trip to Europe, I wondered what if, instead of using Flying Blue miles to fly to London, I used Aeroplan points to get to Europe — and beyond?
I realized that for a moderate increase in the number of Aeroplan points that we would have used to book one direction between Europe and the US, we could fly from the US to Europe (and perhaps see Stirling Castle and take our cruise) and then also continue onward to Asia (albeit on an award that was not fully flexible).
That's because of Aeroplan's mixture of a zone-based and distance-based award chart and flexible award routing rules. Awards from North America to Asia price according to this chart: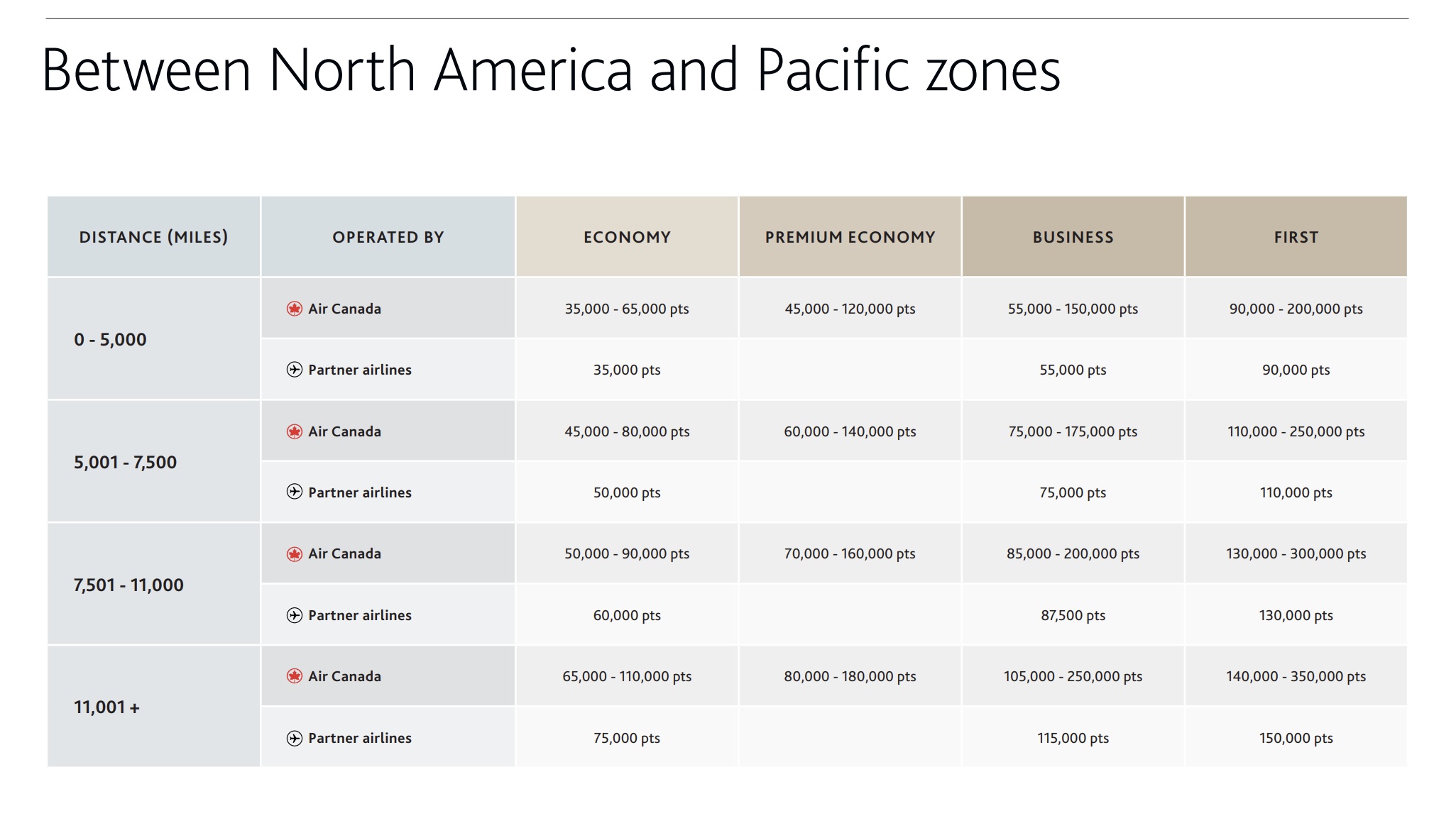 As you can see, at the longest end of that chart (11,001+ miles flown), a business class award on partner airlines from North America to the "Pacific" zone would cost 115K miles. The nice thing is that Aeroplan allows a stopover on a one-way award for 5K miles more and you can route East or West and take "the long way", crisscrossing en route so long as the total distance of your award is not more than double the distance from your starting point to your ending point.
In other words, let's say that I am starting in New York City and I ultimately wanted to end up in Singapore. The direct nonstop distance from New York to Singapore is 9,537 miles. Aeroplan will allow you to book a one-way award with up to 6 legs so long as you don't travel more than a total distance of about 19,074 miles (double the nonstop distance).
So, for instance, I could do something like this:
That would be New York to Istanbul to Rome on Turkish (stopover in Rome for a week or two for my cruise), then continue to from Rome to Singapore (flying Rome to Stockholm on SAS, Stockholm to Bangkok on Thai, and Bangkok to Singapore on Singapore airlines for instance). That would be within the allowable mileage and would cost 120K total miles with the stopover in Europe. That's just one possibility — there are tons of things you can do with this.
However, I expected that finding summertime award availability to Europe would be difficult (particularly in business class for four passengers).
Summer 2024 awards to Europe are actually pretty easy to find right now
To my surprise, finding summertime award availability to Europe wasn't as hard as you might expect if you are planning right now for Summer 2024. As an example, I found frequent availability for four passengers from New York JFK to Istanbul and beyond, many times on four different flights on the same day.
I also found frequent availability for even more passengers (many times 7 or 8 passengers or sometimes no maximum listed) on routes from Boston to Lisbon and beyond on TAP Air Portugal.
While not quite daily availability, I did find quite a number of days with at least nine seats in business class on SWISS from Washington Dulles to Zurich and beyond.
Chicago hasn't been left out of the glut of Star Alliance and other Aeroplan partner award availability, with many summertime dates featuring numerous seats in business class on partners like SWISS, Turkish, LOT Polish, and Air Serbia.
If you're west coast-based, I probably don't have to tell you that it's a little more difficult to find award space to Europe (especially if you'd rather not connect on the east coast of the US). But don't worry, you're not left off of the Summer 2024 availability train altogether. You and eight of your friends could fly business class from San Francisco to Europe on at least some days.
And if you're Pacific Northwest-based, Turkish has pretty good availability for four passengers from Seattle to Istanbul during July — even near the beginning of the Olympics (which are in Paris, but it is easy enough to get between cities in Europe once you're there).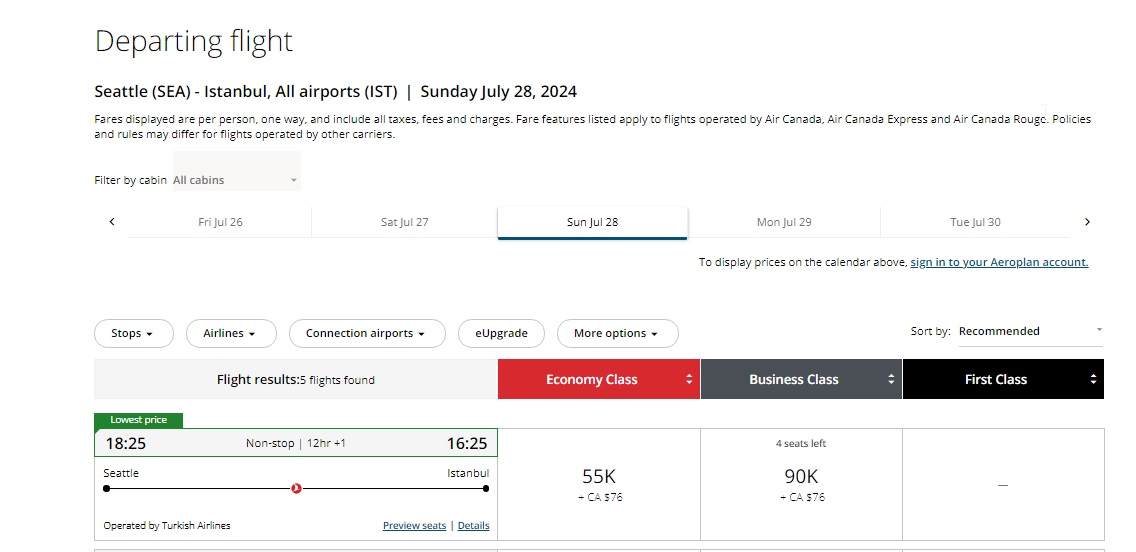 Let me be clear: you probably wouldn't want to book from the west coast to Europe via Aeroplan because 90K points is not a good deal. If you could find those seats available via Avianca LifeMiles (spoiler alert: I couldn't), they should be bookable for 63K miles each way with no carrier-imposed surcharges (or book for 45K miles through Turkish with surcharges added for those airlines that charge them). That said, any of the above might be interesting if you plan to make Europe a stopover point on a long Aeroplan award where you would be in the maximum distance band anyway.
As an aside, it's not just Aeroplan partners that have decent award space to Europe right now. While it isn't an exciting business class award price given the surcharges, it is quite easy to find New York to London in Virgin Atlantic Upper Class for 74K miles and $202.60 during most of the summer.  See this screen shot with 5 different flights to London on the same day that all have 4 or more award seats in business class.
And if you only need 2 passengers, you can get New York JFK to Rome on ITA (the Alitalia successor) almost any day you want via Virgin Atlantic Flying Club (and connecting itineraries to other cities are also available, albeit for more miles).
While not quite as plentiful, don't count out Alaska for Condor flights. Here's a look at dates from Las Vegas to Frankfurt (in flat bed seats) for 55K + $48 each.
If you're looking to get to Europe during the summer (again, the Summer Olympics will be on in Paris, with many competitions happening in other parts of France as well), there are currently lots of ways to do it in business class using miles.
After finding easy enough availability to get from the US to Europe on an Aeroplan award, I intended to stop in Europe en route to Asia. Sadly, while I had little trouble finding award availability to get my family of four to Europe, much to my surprise I couldn't find much of anything to get the four of us from Europe to Asia in business class. That's surely in part a function of my dates, but nonetheless it was a frustrating stretch of searches. I started to pivot away from Asia….
Next thought: Mauritius
I still know very little about the island of Mauritius, but I've been daydreaming about Mauritius ever since our 3 Cards 3 Continents challenge. I had really wanted to make use of one of Air Mauritius's routes from Europe to Mauritius since Air Canada Aeroplan is one of the few airline programs to partner with Air Mauritius, but I couldn't make it work during that trip. (It's worth mentioning that Stephen did end up on a last-minute trip to Mauritius in the meantime and he's written all about things to do there).
Importantly, I remembered there being fantastic availability from Paris and London to Mauritius. That's still true. I had no trouble finding at least 4 seats available in business class almost every single day from Paris to Mauritius — sometimes I even saw six seats available on both daily flights, and other times with award availability on routings via other carriers also.
Since Mauritius is within the same "Atlantic Zone" as Europe and Africa, a one-way award from the US to Mauritius would be subject to the same award chart as an award to Europe.
Given the distance to Mauritius, an award from the United States that incorporated Mauritius will surely be at the maximum end of the award chart distance band (at more than 8,000 miles flown). That meant that we would be looking at 115K total miles from the US to Mauritius with a stopover in Europe on the way. That seemed very reasonable.
Remember that you can have a maximum of 6 segments on a one-way Aeroplan award, so we could fly any of the 2-segment itineraries from the US to Europe shown above and still have four more segments to fly to get to Mauritius. It would be easy to make this work.
From Mauritius, I figured that we could book a separate award to get to Madagascar (just 7,500 Aeroplan miles in economy class for this 1hr 55min flight) or perhaps we could use 12.5K Aeroplan points to get to Johannesburg and then ~26K United miles to get just about anywhere in Southern / Central Africa on South African Airways, Airlink, and Ethiopian. We started looking at options in Namibia and Botswana, and then . . .
JetBlue and Qatar throw plans in the air
After rebooking the cruise for August, I had spent a not-insignificant amount of time searching for award space and putting together options for a simple round trip from the US to Europe for the cruise and maybe a stop at Stirling Castle. Then, when we got the idea to stopover in Europe and continue to Mauritius, I had spent another not-insignificant amount of time researching options and putting together a plan to make that happen. Then, out of nowhere, Qatar began offering award redemptions on JetBlue.
When we initially reported that deal, I thought that there would be high surcharges on JetBlue flights to Europe and I didn't think awards were instantly bookable online. When I realized later that some JetBlue awards were bookable online, including Mint class from Boston to Dublin for 38,750 Avios and $10.10 one-way, I had to step back and reconsider everything (and I updated the post. Unfortunately, in the time since, Qatar has stopped offering JetBlue awards and is possibly increasing the price).
Before the JetBlue availability via Qatar Avios came along, we were going to spend 115K points each for an Aeroplan award from the US to Europe (stopover) and onward to Mauritius (destination) and then probably use at least another 30K or 40K miles to get somewhere else in Africa from Mauritius. We were essentially looking at ~150K points per passenger to get to Europe, Mauritius, and another African destination.
But if we could get to Europe for fewer than 40K points in business class, would it make more sense to start an Aeroplan award in Europe and make Mauritius a stopover point en route to somewhere else in Africa?
Aeroplan's "Atlantic" zone essentially includes all of Europe, all of Africa, the Middle East, and the Indian subcontinent. The blue section here is the Atlantic zone.
Here's the award chart that applies to flights wholly within the Atlantic Zone.
The flight from Paris to Mauritius is just short of 6,000 miles on its own, so any kind of connecting itinerary would push us into the top distance band of 80,000 miles in business class. Adding a stopover would cost an additional 5,000 miles, for a total of 85,000 miles per passenger — exactly the total I had from our previously-cancelled Aeroplan awards.
I knew we would be ending our cruise in Venice, Italy. If we started in Venice and we're flying Star Alliance carriers, that would mean we would need to connect to get to Paris for the flight to Mauritius. That would be 3 total segments to get to Mauritius, which would leave us room for 3 more segments after the stop in Mauritius. I began looking at where we could get from Mauritius.
That was trickier than I'd expected. The only African destinations served by Air Mauritius are Antananarivo in Madagascar and Johannesburg and Cape Town in South Africa. The only other Aeroplan partner that serves Mauritius is South African Airways, so that didn't open any further options. We could have considered flying to Oceania instead as Air Mauritius also flies to Perth, Australia and availability was good, but we've been to Perth before and were more intrigued by Africa with this trip.
If we flew Air Mauritius to South Africa, we could continue onward on South African Airways. That actually didn't give us a ton of options as South African Airways serves surprisingly few African destinations these days. Here's a look at their route map courtesy of FlightConnections.com.
It's a shame that Air Canada doesn't partner with South African carrier Airlink. United Mileage Plus partners with Airlink and that gives you access to a much more robust network in Southern Africa. Airlink can also potentially work in some interesting United Excursionist Perk itineraries, but more on that in a future post.
After another not-insignificant amount of time spent Googling and reading and throwing ideas back and forth, my wife and I ultimately decided that we wanted to try to visit Chobe National Park, near Kasane, Botswana (which is near the borders with Namibia, Zambia, and Zimbabwe). Unfortunately, South African Airways doesn't fly to Kasane (Airlink does!), but I discovered that Chobe National Park is only about a 70-90 minute drive from Victoria Falls and is actually a popular day trip for those visiting Victoria Falls (which are located on the border between Zimbabwe and Zambia).
That's when things started coming together: Victoria Falls airport is served by South African Airways from Johannesburg. In contrast to the exorbitantly expensive safari lodges in Botswana, the Zambian side of Victoria Falls has a Protea hotel that is bookable for about 10K Marriott Bonvoy points per night (compared to nightly rates around $225). Furthermore, you can get a KAZA Visa at Victoria Falls Airport that includes multiple entries to both Zambia and Zimbabwe and certain crossings into Botswana for day trips. That seemed intriguing.
However, I realized that if we did the trip as I'm describing it, we'd be pushing it on distance. That's because our starting point would be Venice and our ending point would be Victoria Falls. Would traveling out of the way to Mauritius (via Paris) en route to Johannesburg and Victoria Falls be pushing the distance too far for the routing rules?
The nonstop distance from Venice to Victoria Falls airport is 4,457 miles according to GCmap.com.
That means we could fly a maximum of 8,914 total miles to get from Venice to Victoria Falls (double the direct distance). To get from Venice to Paris for the flight to Mauritius, we could fly Lufthansa from Venice to Frankfurt to Paris and then we could continue to Mauritius, Johannesburg, and Victoria Falls. But . . .
That route was about 64 miles too long! It wasn't going to work. Unfortunately, I quickly realized that most other Star Alliance European hubs (Munich, Warsaw, Brussels, Stockholm, Lisbon, Istanbul) added even more distance. But looking at the map of Europe, I realized that one Star Alliance hub was "on the way" to Paris: Zurich.
Much to my excitement, I found that flying from Venice to Zurich to Paris to Mauritius to Johannesburg to Victoria Falls came in 51 miles under double the straight-line distance from Venice to Victoria Falls! That's cutting it very close because GC Map doesn't always exactly match what the airline computers have.
I found availability on all of the legs and dates we wanted and then called Air Canada Aeroplan at 1-800-361-5373. I actually called twice: one time I selected the menu option to have them call me back when it was my turn and then I hung up and called back under a different phone number to wait on hold wondering whether I'd actually get the call back before getting connected to an agent. Sure enough, I did get the call back more than an hour and twenty minutes later (which was indeed before an agent picked up on the call where I was on hold). I had already written down all of the flight details (dates, airport codes, and flight numbers). I explained to the agent what I was looking to do and she typed out all of the flight information I gave her and put me on hold to search for it.
I really want to give Aeroplan credit on agent training. I've called several times now to book somewhat complicated awards. Every time, I've been greeted by a cheerful agent who was happy to hear me out (and actually listen!), write down the crazy itinerary I proposed, and go to search it without first telling me that they didn't think it was possible or that I was doing something the wrong way, etc. It's really refreshing to just be listened to and have an agent just try.
It only took a few minutes for the agent to pull together all of the awards I wanted (and in fact she surprised me — while I had only seen Venice to Zurich to Paris available in economy class on SWISS (and I had told the agent those 1hr flights would be in economy class and that was fine), she came back on the line saying that one of those legs had actually been available in business class even though it didn't show up that way on the Aeroplan site when I searched.
Sure enough, as expected, the entire itinerary priced out at 85K miles per passenger with the stopover in Mauritius. Taxes came to a total of $737 (an average of $184.25 per passenger, though in reality the kids were cheaper than the adults) and I used a card loaded with a Chase Offer for 10% back on an Air Canada purchase up to $40 back, so I'm hopeful that we'll be under $175 net per passenger. And with the flights I chose, we ended up with an overnight layover in Paris that gives us a full day to either relax at the hotel or go out and do something and we've got a 23 hour and 55 minute layover in Johannesburg, so that's like a bonus stop now.
Since our entry to Europe will be Dublin and our cruise starts in Italy, we'll still need a couple of (very cheap) flights in Europe (a flight from Dublin to Scotland is looking like $26-$60 per passenger and then there is plentiful cheap award availability from Edinburgh to Italy), though we would have needed those same flights had we flown into London as per the original plan. Thanks to the JetBlue award via Qatar Avios, we're now paying a total of 123,750 points each to get a business class flight to Europe and mostly business class flights to visit Mauritius and Victoria Falls (and a day in Johannesburg). That's not quite ANA round-the-world level value, but it feels like a great deal to me nonetheless (especially when you consider that I used all existing miles with just a small top up of Avios and that most of the Avios I used were points transferred during a transfer bonus).
What about the way home?
I know that at least a couple of the brave souls who read all the way through to this point have wondered aloud, "Well that's all well and good, but how are you going to get back home?". The homeless drifter digital nomad in me feels like that is future me's problem to solve :-).
The short answer is that I plan to stalk Qatar Airways availability and I hope to eventually snag four seats from either Johannesburg or Cape Town to Doha and back to the US, but if not I am hopeful that I'll either be able to use my Flying Blue miles or Virgin Atlantic miles to book a route on Air France or KLM to at least Europe (and then we shouldn't have much trouble getting back home from Europe).
But the truth is that I'm still exploring. I mentioned the United Excursionist Perk and I've started to explore how valuable that could be if we want to try to sneak in one more destination in Africa (and/or position for an available award flight home). I don't currently have any United miles. I do have Chase Ultimate Rewards points, but I prefer to use those for Hyatt redemptions. We may have to consider picking up some United miles between now and next summer through a welcome bonus (or perhaps just accept transferring from Chase). Another possibility would be starting an ANA "round the world" trip in Africa that starts out bringing us home and then continues into Asia in 2025 (we'd have to wait a long time to book that). The short story is that we don't yet have the return figured out, but I'm not concerned: we have time on our side.
Bottom line
I recently booked an epic adventure for summer 2024. If all goes according to plan, we'll be doing a lot of traveling, but hopefully we'll pick up some memorable experiences and learn how to keep up productivity, educational value, and also get a chance to highlight some of the really cool experiences made possible by Aeroplan's really fun combination of award rules and partners. I have to admit that even though all of this took a much longer time to do than to write (and believe me, it took even longer to write than it did to read!), it was fun. What I love about Aeroplan is that it makes searching for awards, looking at mileage charts, and considering how to explore within their parameters a fun exercise. When I got off the phone and got my email confirmation, even though it isn't the most valuable redemption ever, it felt like an accomplishment. For those that enjoy this game, it's hard to beat the rush of making a great redemption, snagging a great deal, or building something that looks almost impossible. I felt like all of the above came together and I can't wait to take the trip.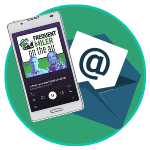 Want to learn more about miles and points?
Subscribe to email updates
 or check out 
our podcast
 on your favorite podcast platform.