Ben Dunne joked at Sinn Féin event about seeking a refund after his 1981 IRA kidnapping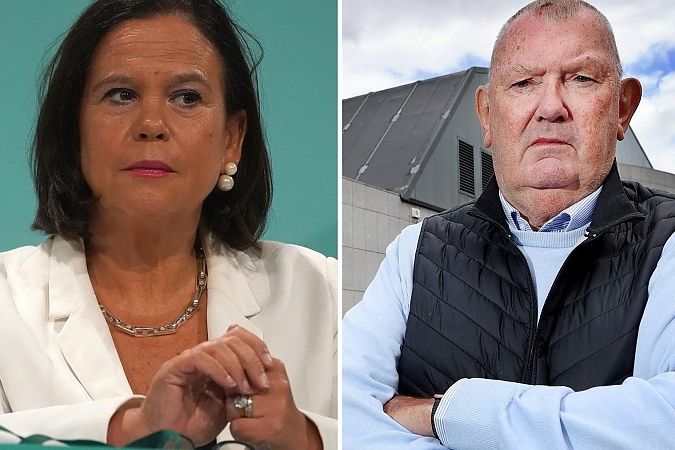 Mr Dunne, the former director of family business Dunnes Stores and the owner of a chain of gyms, died aged 74 after suffering a heart attack in Dubai. In 1981, Ben Dunne was kidnapped by the IRA and was released after seven days after a ransom was reportedly paid.
Ms McDonald was criticised on social media at the weekend after she said she was saddened to hear about the sudden death. During a media appearance in Dublin, Mr Ó Broin was asked if he would condemn the IRA taking Mr Dunne hostage.
Mr Dunne attended at least one Sinn Féin outreach to the business community in Dublin — but the party is maintaining silence on whether there were any further links.
His presence may partly explain why Mary Lou McDonald was quick to lavish praise on controversial businessman who has died in Dubai, but whose funeral is expected to be held in Ireland.
Mr Dunne's presence at a Sinn Féin event raised eyebrows among fellow business leaders — he having been kidnapped by the IRA in 1981 and held for seven days until a ransom was paid.
In a 2014 radio interview with Miriam O'Callaghan, Ben Dunne said: "I was sitting at the top table with Martin McGuinness and Gerry Adams and they didn't look comfortable at all. I wasn't too comfortable myself.
"So I turned around and said, 'Listen fellas, if this is a fundraising lunch, it's a refund I'll be looking for'. They broke their hearts laughing and we had a fantastic lunch."
The businessman lived with his family in Carpenterstown, near Castleknock, close to where Mary Lou McDonald once attended Fianna Fáil cumann meetings before she left that party.
The Sinn Féin President did not reply to a request for comment on Monday as to whether she and Mr Dunne were known to each other, and neither did a party press officer respond.
Ms McDonald's online expression of sympathy at Ben Dunne's death drew sharp responses from some users of X at the weekend. But his son Rob responded to her: "Thanks Mary Lou for your condolences. My Dad would always say it's crucial to 'keep looking forward and never dwell on the past.' And I'm sure I don't need to tell you to simply ignore the trolls and their commentary."
Mary Lou replied: "Love and solidarity to your family at this time, Rob. Your Dad was a really good man."
Separately, Sinn Féin TD Eoin Ó Broin said at Leinster House yesterday that he never supported the taking of hostages "in any conflict".
He said he has never met Ben Dunne but had "no doubt" he was a "good man".
When asked if Sinn Féin owe an apology to Mr Dunne's family, he said said the IRA has previously apologised for "those matters".
Mr Ó Broin said: "Republicans have apologised for a very large number of things that happened during the conflict, including spokespeople acting on behalf of the IRA, when the armed conflict was brought to an end and the IRA disbanded, apologising.
"And I think we all need to do whatever is required to ensure that people who lost loved ones or experienced conflict have their needs and concerns dealt with.
"That's a big part of work, that's a piece of work we are constantly engaged with others, and particularly in the North where these issues are most acute.
"But all I will say is is very senior republicans, including people speaking on behalf the IRA previously have apologised for those matters and I think that was the appropriate thing to do."
He said there is "obviously an issue" around Sinn Féin commemorating people who died during the Troubles, "including Republican combatants".
"And I've always said, when we've asked been asked these questions, we need to find ways of doing that that is appropriate and sensitive. We have a right to do that.
"But for me, what the party has been doing in recent years is ensuring there's never a return to conflict in this country and I think we've played a very important role in that. And i think its entirely appropriate that we bring the same experience to bear in our commentary in relation to the middle east
"I can't re-live 30 years of armed conflict in this country, a large part of which I was a child during, but what I can ensure is that what I do as a Sinn Féin politician, like my colleagues, is ensure we never return to violence of any kind."