'Bike Library' project gets under way in Dublin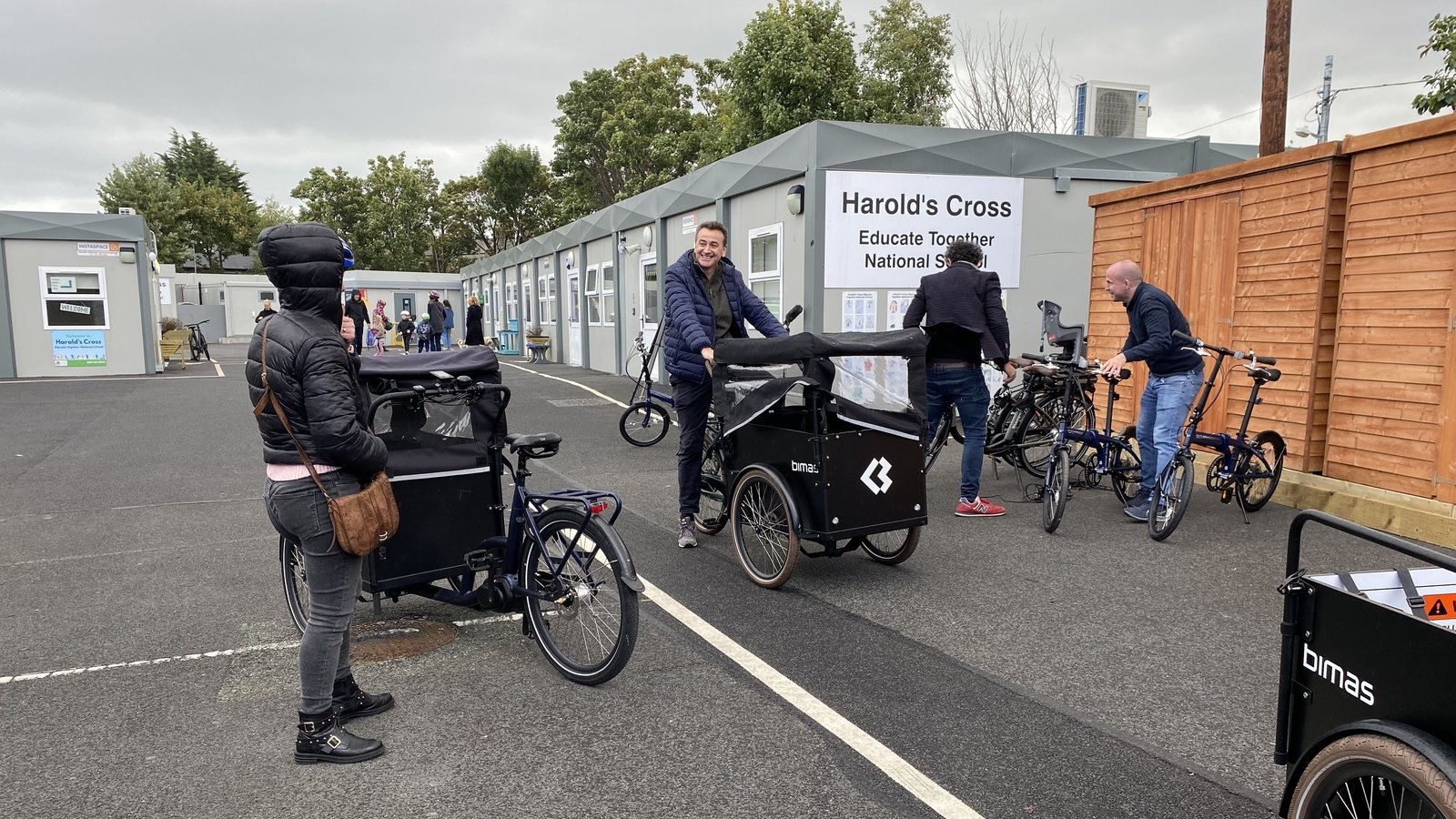 Hundreds of families are going to get the chance to try out a cargo bike for their daily commute to and from school, as part of a new partnership between the National Transport Authority and University College Dublin (UCD), which will see the introduction of 20 new "Bike Libraries" at primary schools across Dublin city.
The project will give families the opportunity to borrow an e-bike, cargo bike or foldable bike for a set period during the school term, at no charge.
This will allow them to "try before you buy", and to experience using these bikes before having to decide to purchase one.
The aim of the project is to encourage families to make a permanent modal shift to sustainable travel for their daily commutes.
RTÉ News reported last September on the pilot for the Bike Library Project at the Educate Together National School in Harold's Cross in Dublin.
This has resulted in the school run there going almost completely "car free", said Bike Library founder Professor Francesco Pilla.
He estimates 10,000km of car journeys have been avoided at Harold's Cross since the project started.
That suggests more than a tonne of carbon emissions have been avoided at a time when the International Panel on Climate Change is warning limiting global warming to 1.5C or even 2C will require "rapid and deep and, in most cases, immediate greenhouse gas emissions reductions in all sectors this decade."
The expansion of the Bike Library scheme promises further emissions cuts and other benefits.
Launching the next phase at the Assumption Senior Girls National School in Walkinstown Minister for Transport, Eamon Ryan said: "Cycling to and from school helps to instil, from an early age, the benefits of active travel, how it can lead to healthier lives and how it can help our climate.
"However, one of the barriers to getting some children on their bikes can sometimes be the fact that the parents don't have a bike themselves.
"This Bike Library project will change that and, hopefully, will lead to a permanent modal shift for the school run for many families."
CEO of the National Transport Authority, Anne Graham said: "The National Transport Authority supports active travel, including cycling, at hundreds of schools nationwide through the Safe Routes to School programme which is delivering safer cycling and walking environments at the front of schools. The Bike Library is another excellent tool that will help"
The initial ten schools which includes the Assumption Senior GNS will take part in the Bike Library project in the Spring/Summer term this year.
This will be followed by the second tranche of schools in the new academic year in September (for a period of three months).
The bikes are provided and managed by UCD with the project supported by the National Transport Authority's Active Travel Programme.
Professor Francesco Pila, University College Dublin said: "The Bike Library is all about climate action and gives the opportunity to families to have an active role in reducing traffic emissions and in accelerating the transition towards climate neutrality in Ireland.
"The Idea behind a Bike Library is to provide parents with the opportunity to test and trial a range of eBikes, eCargo Bikes and Folding Bikes as well as different options around transporting children i.e., trailers, child seats etc.
"This will allow them to see the benefits of eMobility and encourage a modal shift without the upfront costs of purchasing their own eBike immediately."