David Kitt: "Now that I'm back out gigging and feeling more like an actual active musician again – as opposed to someone who's hiding away in a cave making stuff – I feel a momentum" | Hotpress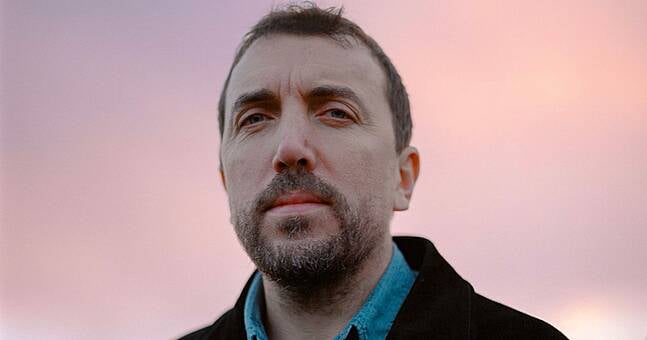 As he releases his new album, Idiot Check, David Kitt discusses relocating to Ballinskelligs, generational shifts, polarisation, his friendship with the late great folk singer Seán Garvey, and working with Katie Kim and Mary Margaret O'Hara.
For an artist as radically genre-blurring and shape-shifting as David Kitt – who, as usual, is currently intertwined in a multitude of solo and collaborative projects – adaptability is crucial.
"One week you're in the Albert Hall, the next you're back in the Corolla, driving to the Spirit Store with a tuna and sweetcorn sandwich," he laughs. "I'm used to doing both, and I actually really enjoy the variety."
The Irish singer-songwriter, who first found major success in the early 2000s with his albums Small Moments, The Big Romance and Square 1, has spent the greater chunk of his career fearlessly pushing at the boundaries of what's typically expected of a chart-topping recording artist – exploring an ever-expanding pool of influences, making music under both his own name and a variety of monikers, and showcasing his talents as a DJ at some of the most renowned clubs in the world.
At the time of our conversation, he's in London, about to kick off a run of dates as a special guest, and member of the live band, on David Gray's Skellig Tour. Between that and his own upcoming headline shows, he's facing into his busiest gigging period in years, with stops in venues across Ireland and the UK.
But David's involvement in the Skellig Tour, as well as his contributions to Gray's 2021 album, Skellig, is, as he states, "a funny coincidence" – given that the cover of his own new album, Idiot Check, also happens to prominently feature the Skelligs. Kitt, who originally hails from Dublin, has spent the past two-and-a-half years living in Ballinskelligs, named after its proximity to the historic islands in south-west Kerry – making him, he points out, Gray's "Skellig monk in the band."
"Initially I was supposed to be moving to Australia, but the plans changed with the pandemic," David says of his move. "I ended up moving to Kerry as a temporary measure, really – just to wait and see what was happening with travel situations. At that point I was still planning to move to Australia. And then, as time went on, those plans really changed for definite. I just loved it down there."
Having previously spoken out about the mounting challenges of attempting to live in Dublin as a musician, David is now part of a steadily growing stream of Irish artists who have opted for a life along the Atlantic coast in recent years.
"It's something that maybe got accelerated by the pandemic," he considers. "But when people do make the move, they realise that it can really enhance their quality of life – compared to scrambling and struggling to maintain any kind of quality of life, in terms of finding a place to live in Dublin. It's almost impossible. It definitely wasn't possible for me.
"So it's completely changed everything on that front," he adds. "I'm able to have a place with a bit of space, to set up recording equipment. And you have so much access to nature, and beautiful food. It's really good for the head and soul. When you're in awe of the world around you, it tends to find its way back into your work. The tone of your work and the pace of your creativity changes in a really positive way. The travelling obviously is a bit more of a challenge, because it's like five hours from Dublin. But as long as I can make it work, I'm going to stay as long as I can."
Idiot Check, his ninth studio album, was written between Dublin, Paris and Ballinskelligs. He reveals that "a lot of it was informed by that first period of the pandemic, when there was a lot of confusion, and almost a weird grieving of a former life."
"And there was a lot of noise in the media," he resumes. "It was peak Donald Trump. It felt like the early days of a lot of what we're seeing now, in terms of increased polarisation online. It was a time where it felt like the world was becoming more divided. That all worked its way into the record."
"But I like to think that there's also a lot of hope on the record – in terms of using the creative process to deal with some of that noise, and finding peace within that process," he continues. "It's a self examination, as much as it is an abstract look at societal things that seem to be affecting everyone."
The tinfoil hat David sports on the album cover as he stands in front of the Skelligs certainly feels like a nod to that polarisation online, and the associated rise of misinformation and conspiracy theories.
"Definitely, yeah – and I'm looking across the Atlantic towards one of the main offenders, I suppose!" he laughs. "But it's as much to do with the dumbing down that's affected us all, in terms of being tethered to our phones all day, and the certain sense of opium of the masses, or whatever it is, that seems to be blunting our senses. It's about that battle to regain control of your creativity, and your thought process, and your choices."
The early days of the pandemic also influenced his existential musings on religion and superstitions on the album's first single, 'Wishing Well'.
"I was separated from my family, my friends and my partner, who had gone to Australia," he reflects. "There was a general sense of being quite alone, and a certain fear. Everyone was freaking out, running for cover. So it was to do with questions of, 'Who do you pray to? What's the balm for that kind of fear?' It's about how we cope, in the absence of religion, and how superstitions have changed."
He acknowledges that a lot of the album relates to that "generational shift," and not only in terms of religious beliefs.
"Even a song like 'Till The End' has an element of that," he states. "My parents are still together – they've had a really long successful marriage, and they're still in love. I'm not saying our generation finds that more difficult, and obviously there were a lot of situations in the past that really didn't work. But there's something that's changed about the nature of commitment, and the tyranny of choice – all of those things that affect our ability to commit to one central thing to put our faith in, whether it's people or a force beyond ourselves."
Among the special guests on the album is David's long-time collaborator Katie Kim, who contributes vocals to several tracks.
"She can do anything," he says of the Waterford-raised, Dublin-based artist. "There's a song of hers called 'Your Mountains', and to this day I think it's like Beach Boys-level harmonies. She has superhuman abilities, vocally. What she did on 'Till The End' – that's all her work, it's really got nothing to do with me. It totally blew me away."
He also managed to enlist the talents of Mary Margaret O'Hara – the acclaimed Canadian singer-songwriter, who's maintained a cult following since the release of her only full-length studio album, Miss America, in 1988. Her vocals feature on 'All Folly' – a track that was originally intended to be part of David's Cornaleena project with author Kevin Barry, for 2021's MusicTown festival.
"We basically made a film about a fictional town in the west of Ireland," he tells me. "We always had this dream that, in the local pub in the town, Mary Margaret O'Hara's song 'You Will Be Loved Again' was the last song of the night. It would be played like the national anthem in the pub. It was a place where it was quite hard to find a partner, so there was a bit of an element of tragicomedy to it – because these people wouldn't be loved again."
After attempting to contact her for two years, David sent her a recording of the late Irish traditional singer Seán Garvey, who also featured in the MusicTown project – which premiered a year before his death in May 2022.
"After hearing Seán's voice, and getting a sense of the project, she really did her homework," David resumes. "She listened to everything I've ever done, even all the really obscure electronic stuff. She read about Kevin, and she heard an interview that Kevin and myself did at the Borris Festival of Writing and Ideas. She just believed in it, and decided to get involved. She sent me 20 or 30 phone recordings, which are all mindblowing. She's possibly my favourite singer of all time, so it's crazy that she's on my record."
David and Seán Garvey, who hailed from south-west Kerry, had become close friends in the final years of the influential folk singer's life.
"I actually met him in Centra!" David recalls. "I bumped into him, and I was like, 'Are you Seán Garvey?!' And that was the beginning. I was a massive admirer of his. It took me a while to earn his trust – I think he was trying to figure out where I was coming from. But once he got me, we were pals.
"I really, really miss him," he continues. "It was a huge loss to me, because he was almost like a guardian angel. He'd always check in on me, and he'd be playing songs down the phone, or picking up the banjo, and telling the funniest stories. To me, it was like hanging out with Johnny Cash. He was a really beautiful man, and a real true artist."
Armed with such remarkably broad influences, David's steady work ethic and creative drive has shown no sign of letting up over the years – to the extent that his main concern now is "trying not to have too many ideas…"
"I do tend to have too many ideas – and it can be a problem, trying to keep up with them all," he resumes. "And once I get attached to an idea, I find it hard not to see it through, in some shape or form.
"But I think I'm getting a better grasp of it," he adds. "Now that I'm back out gigging and feeling more like an actual active musician again – as opposed to someone who's hiding away in a cave making stuff – I feel a momentum. It's like a fitness thing – you feel musically fit again, and somehow, things get finished easier."
• Idiot Check is out on March 31, via RE:WARM. See the full dates on his upcoming Irish and UK tour at davidkitt.com