Details of 2024 Aer Lingus College Football Classic in Dublin revealed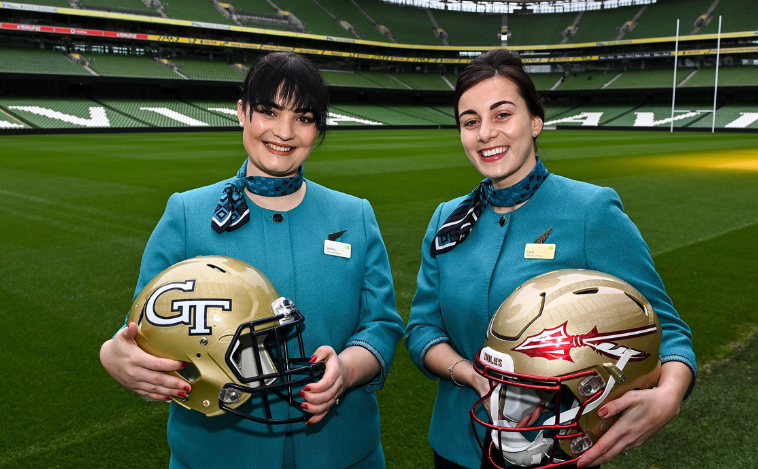 The 2024 game at the Aviva Stadium, which will be the Florida States Seminoles' first-ever overseas football fixture, will be of an estimated worth of €69 million to the Irish economy.
Georgia Tech and Florida State University have been revealed today as the two teams set to contest the 2024 edition of the Aer Lingus College Football Classic in the Aviva Stadium, Dublin, on Sat, Aug 24, 2024.
With over 20,000 people expected to travel to Dublin from America for the highly anticipated clash between two leading US colleges, research from Fáilte Ireland and Grant Thornton estimates that the Aer Lingus College Football Classic 2024 fixture will be worth €69 million to the Irish economy. The 2024 game will be the third consecutive American college football game held in Ireland since the game series was announced and the eighth Division I College Football game to be played in Ireland.
Like in 2022 and Notre Dame and Navy this August, the 2024 game will be the opening fixture for the College Football season and is an Atlantic Coast Conference (ACC) game. The game is played on "Week Zero" and is to be televised on ESPN to an estimated 4 million plus US live audience.
Georgia Tech will return to Ireland next year for the second time since 2016 when they defeated Boston College by 17 points to 14 in the Aviva Stadium.
In 2024 the Yellow Jackets will hope to call on Ireland's own David Shanahan, a member of the 2017 Kerry panel that won the All-Ireland Minor Football Championship. David, who is studying at Georgia Tech, is a punter, which is a special team or 'kicking team' player. During his first football season at Georgia Tech, David appeared in all 12 games and handled all 61 of Georgia Tech's punts despite having never played in an American Football game prior to this. He is the first Irishman ever to receive a full scholarship to play American college football.
Florida State University, known as the Seminoles, will play its first game in Ireland next year. The three-time National Champions are one of American college football's most widely supported teams, playing their home matches at the 79,560-capacity Doak Campbell Stadium in Tallahassee, Florida.
Speaking about the announcement, Taoiseach Leo Varadkar TD said, "The Aer Lingus College Football Classic is fast becoming a popular fixture in the Irish sporting calendar, with supporters from America, Ireland and beyond gathering in Dublin to enjoy the atmosphere and high-quality college football."
Lynne Embleton, CEO of Aer Lingus, said, "Aer Lingus has a proud history of connecting Ireland to the US for almost 65 years and we are committed to continuing to grow our long-haul network connecting Ireland and Europe to North America through our Dublin Hub."
For more information and hospitality packages visit CollegeFootballIreland.com.