Dublin Airport's Platinum Services Team Win 4 Customer Service Awards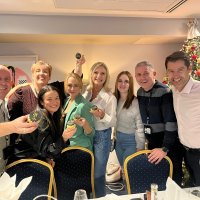 The Platinum Services team at Dublin Airport celebrated a golden evening on Thursday (November 16) as they picked up an incredible four Gold awards at the International Customer Experience Awards (iCXA).
The team picked the awards for 'Best Customer Experience in a Time of Crisis', 'Best Customer Centric Culture', 'Customer at the Heart of Everything' and 'Team of the Year'.
The iCXA awards is an annual event with entries from over 45 countries competing in 22 categories. The judging process and scrutiny was intense, with each category consisting of a presentation and Q&A from a number of different judging panels.
Platinum Services beat off competition from a whole host of other airports and major global brands to win the awards.
Ronan O'Donoghue, General Manager of Platinum Services, praised his team for their dedication and commitment to providing the best customer experience possible, saying:  "These awards are validation of the hard work, dedication and commitment to our customers that we have in our team. I see every day how hard everyone works to ensure our customers have a great experience at Dublin, so it's a proud moment for all of us to be recognised in this way by our peers. The team has a strong commitment to excellence, and we are thrilled to be recognised as leaders in customer service and business transformation. We will continue to innovate and enhance our services to provide our passengers with the best possible experience at Dublin Airport."
For more information on Dublin Airport's Platinum Services, click HERE.