Dublin's netminder and bookbinder Paschal Flynn on playing at Wembley, winning Sam in 1963 and his take on Stephen Cluxton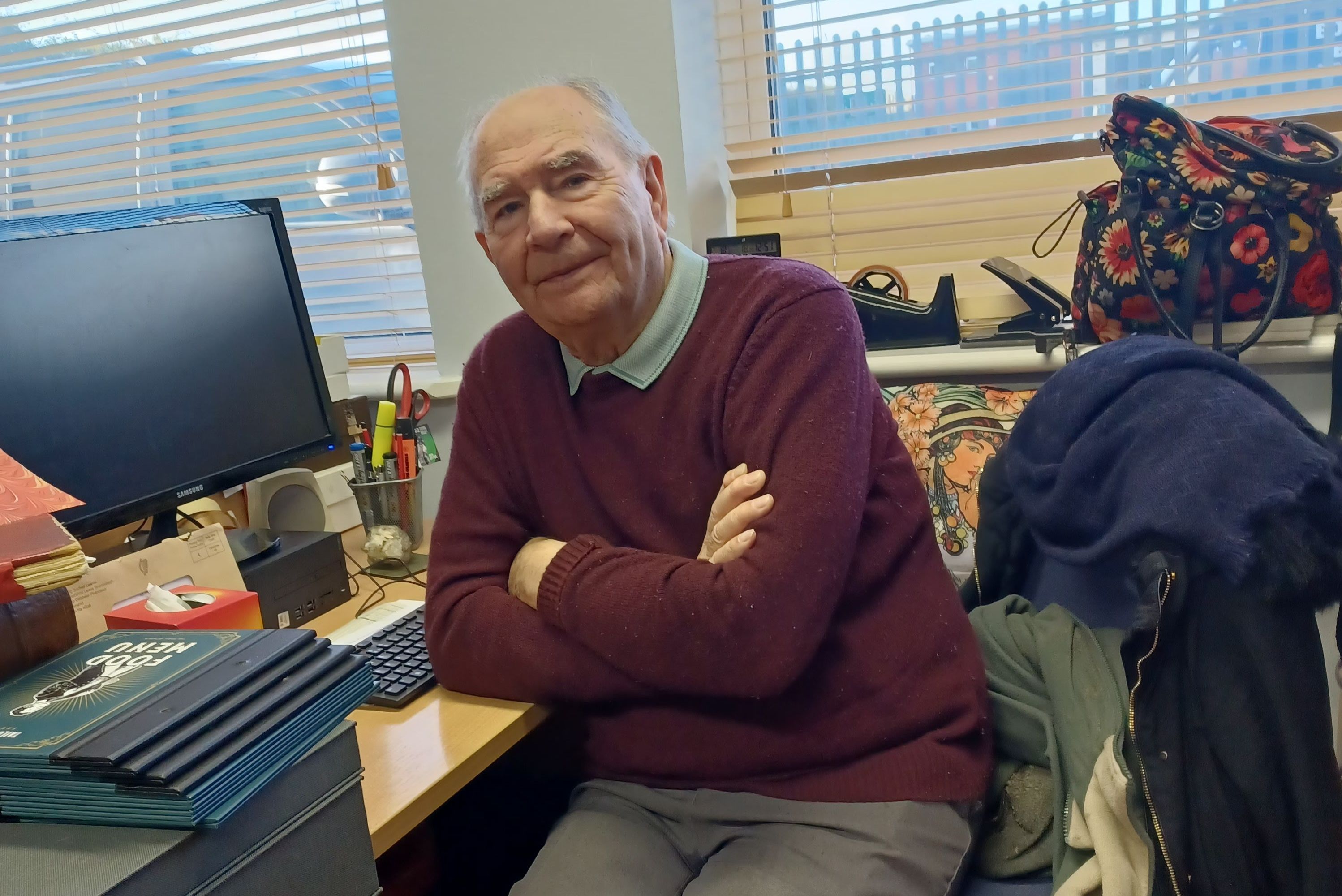 He's a bookbinder. "I have never done anything else," he says.
He served a seven-year apprenticeship at Bailey Gibson's in Dolphin's Barn.
"My son, Paschal, runs the business here now, but I still come in every day. I love it."
Bookbinding is a craft. Just like goalkeeping. "I always wanted to be a goalkeeper. I don't know why. My father told me he did a bit of goalkeeping when he was younger."
Paschal was reared in Saggart. "Saggart was a village then. There was a row of 22 cottages near the church. We lived in number 21. Those cottages are long since gone."
As a boy, he'd be running up and down the garden "dreaming of playing a big match in Wembley".
Paschal started off with St Mary's in the Under-14 South County League in 1948. "A man called John Hennessy ran the side.
"I was about 12 at the time. I played outfield, but I was still keen on becoming a goalkeeper."
A few years later, St Mary's were looking for a goalkeeper for their senior team.
They picked Paschal. "I was only 17 at the time. That was very young to be playing in goal back then.
"The rules were different then. The football was tough. Goalkeepers got little protection, but thankfully I was well-built and I had good defenders in front of me. I enjoyed it so much.
"We had some tremendous matches in Saggart. Big crowds. No quarter asked or given. And after the game, both teams would go across to Jacob's for a drink."
One day, St Vincent's were the visitors. "After the match, Mossy Whelan came up to me and said: 'Young fella, you should be on the Dublin panel.'
"What a player he was. A star on the Dublin team. He was dynamite.
"He said he'd get me onto the Dublin squad. But I didn't think much more about it, but, lo and behold, two weeks later came the invitation to join the Dubs.
"I came in as the sub goalie. It was 1957. Louth beat us in the Leinster final and they went on to win the All-Ireland that year.
"I was there till 1965. Wonderful days. We made great friends. Lovely memories."
In 1963 came a highlight. The Dubs won Sam. "We had a good side, but we were up against a brilliant team in Galway. And they proved how good they were when they went on to win the three-in-a-row.
"Gerry Davey got a vital goal for us. Unfortunately, Paddy Holden had to go off injured. He was a magnificent footballer. He was rated the best centre half-back in Ireland at the time.
"Paddy Downey came on to replace him. He played so well. He had a major impact on our victory, curtailing the impact of the legendary Mattie McDonagh.
"There was great excitement in the build-up. We trained in Parnell Park and O'Toole Park. O'Toole Park was handy for me because I was living in Perrystown at the time.
"After we won, there was a sense of disbelief. It was all over. We couldn't believe we had won it. It was a strange feeling. One of the things I was thinking about was that we won't have to train next week. We celebrated for a couple of weeks. I got to bring the Cup to Saggart.
"That Dublin team was so popular. You'd nearly be playing every week. If it wasn't league or championship, it would be a friendly game to open a ground. We were always in demand."
He recalls one game in particular. It was in the old Grounds Tournament competition.
The Grounds Tournament was played around October and November. It consisted of the four All-Ireland semi-finalists. The two teams that reached the All-Ireland final would be kept apart in the semi-final pairings.
"We were playing Kerry in the final of it in Croke Park. There was no manager then. Selectors picked the team. We were ten points down at half-time. We thought we didn't have a chance.
"The selectors made the decision to move Lar Foley from full-back to full-forward, and that changed everything. And it was Lar that got the winning goal. It was a fantastic match."
The Dublin team also won the League and they travelled to New York. They also played at Wembley. "We played Galway at Wembley.
"I remember the grounds-staff there took such good care of the pitch. You had to walk at the edge of the surface. You wouldn't be allowed to walk across it. It was such a thrill to play there after dreaming of it so much when I was a child."
Paschal also performed in London's Royal Albert Hall with the Nás na Rí Singers of Naas. He loves music. Nat King Cole is his favourite.
The symphony orchestra played every time Mick O'Connell laced up the boots. "It was a privilege to be on the same pitch as him. He was the most magnificent of footballers.
"He was so graceful. He floated up to the ball like a bird. He had an amazing technique of jumping for a ball and landing three feet away.
"He was moving towards it all the time. And those couple of yards gave him the space to get away from the tackles.
"The Down team of the 60's was a fantastic side. People marvel about how the game was played and the old style of catch and kick.
"But I also have so much admiration for the teams of today. Players today are so fit. They are super athletes. They bring such speed to the pitch. And excitement. Like Dublin and Kerry."
Paschal played much of his football for Mary's out the field. "The thinking was that I was with Dublin so I had to be fit. I enjoyed playing outfield. I operated around the 40."
Several Dublin number 1's also left their familiar gate-posts when they donned the club colours.
He tells of a special Croke Park gathering that Paddy Cullen organised.
"Paddy got myself, Paddy O'Flaherty, John O'Leary and Stephen Cluxton together. We got our pictures taken standing in the Hill 16 goal with Sam. We had a meal in the Croke Park Hotel. It was a lovely day. And so good of Paddy to organise it all.
"Paddy O'Flaherty was a fabulous 'keeper. He won the All-Ireland in '58. A good friend of mine. Paddy Cullen and John O'Leary were also first-class.
"What really stood out for me from the day was Stephen Cluxton. He has such a big profile. A huge star. But he was more interested in talking to us about our careers than talking about himself.
"I was knocked over by how humble he was. I admire him hugely as a goalkeeper, but it was just the fact that he's a very nice person."
This year, Paschal got to meet up with many of the '63 team at a function in Croke Park. "It was terrific to see them again after all the years. The GPA arranged it, and we all appreciated it."
He gets up from his chair. He's surrounded by beautifully bound leather books and many other decorative items.
He steps out into the yard. There's a sting in the Ballymount breeze. A day to put on the goalkeeping gloves.
They were to prove the perfect fit for Paschal. Down to the very last stitch. A bookbinder and a goalkeeper right to his finger-tips.