I Used My MBA To Launch A Career In Tech In Europe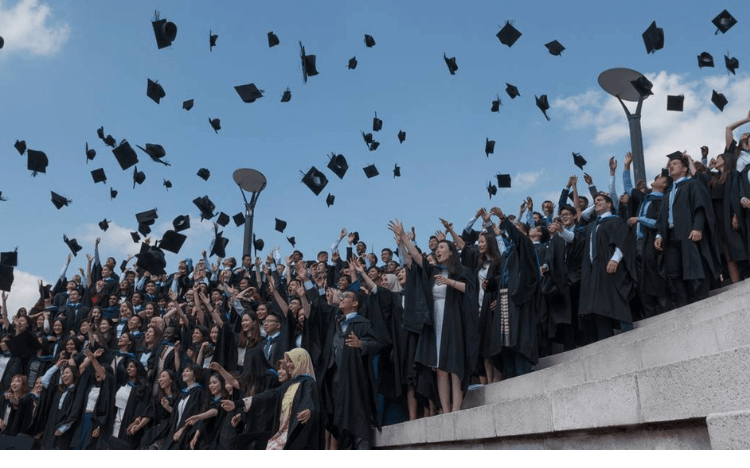 Grace Farias travelled from South America to Europe for her MBA, using her business degree to launch a career in tech in Dublin
Technology is a sought-after career path for MBA graduates. The everchanging industry offers strong starting salaries, career advancement benefits, and a variety of different job opportunities.
Globally, the percentage of MBA candidates interested in tech careers rose from 34 in 2019 to 37% in 2021, according to the Graduate Management Admission Council (GMAC).
MBA grad Grace Farias used her business school degree to move abroad, open herself up to different industries, and launch an international career, which has since seen her move from Peru to Dublin to work at an innovative tech startup. 
The tech industry provides Grace a space to leverage her strategic and analytical skills, strengthening her global career in tech post-MBA. Here's how she did it:
---
From South America to an MBA in Europe 
Grace (pictured), who is originally from Peru, joined the Full-Time MBA at Warwick Business School, University of Warwick to advance her knowledge and career prospects. She was also keen to gain experience of studying abroad in Europe in an English-speaking country. 
Grace worked at LATAM Airlines Group in Peru, and later in Chile, across project management, operations, and business integration. During the decade she worked there, she was exposed to different areas of the tech industry including automation and digital innovation. 
"I was working on more strategic projects around LATAM Airlines. We started working on developing the airports by implementing technology in areas such as self-check-in and self-bag drop," Grace says. 
Yet, Grace felt she wanted to explore a new career phase and open herself up to new industries. 
"This was the main motivation to start looking for options to move and study an MBA abroad," she says.
---
Choosing an MBA in Europe that could help leverage her transferable skills
Grace was looking to push herself out of her comfort zone, so she looked for an MBA outside of Latin America. 
Upon researching high-quality MBA programs in Europe, Grace found the Warwick MBA—a one-year program offering top credentials and an array of courses. 
Warwick consistently appears in the Financial Times MBA Ranking, placing sixth in the UK in the 2023 rankings. 
Meanwhile, in the 2022 Better World MBA Rankings, Warwick came second in the world and first in the UK. 
During the Warwick MBA, students take eight required modules designed to provide a solid foundation in management, business, and leadership.
Having worked in customer service, Grace was particularly drawn to electives in behavioral science.
"I was very interested in this subject because I'm passionate about working with people," she says.
Along with gaining skills in interpersonal interaction through MBA courses, working alongside people from different career backgrounds and nationalities in the class equipped her with effective communication skills. 
"It made me reevaluate how I view others and react to different conversations or topics—the experience was an eye-opener," she says. 
---
---
Landing a career in tech in Europe
Top tech companies are often attracted to MBA grads as they bring diverse skills in areas such as innovation, strategic management, or data analysis. 
According to the GMAC Corporate Recruiters Survey, technology recruiters report a high degree of confident in business school grads.
During Grace's MBA, the pandemic hit, which led to her widening her net regarding job hunting. The boom in tech and the industry's active hiring of MBA graduates led her to join a tech startup in Dublin, Companjon.
Companjon is a tech venture specializing in insurance that's fully digital. Its business model partners with global digital businesses to offer customers flexible and fully automated insurance for bookings and purchases. 
"I already had the project management skills from previous roles and wanted to apply them in a different industry.
"It was on my mind because I used to work with tech in strategic projects. So I started looking for roles in tech specifically," Grace says. 
An advantage of entering the tech industry is getting involved with various sectors, such as data analytics, FinTech, AI, Robotics, automation, and digital innovation. 
"I was open to the industries, and I've had some more inclination for FinTech or payments roles. So when I got the opportunity, I jumped at it," Grace says. 
For her role, Grace moved to Dublin and now works as Companjon's Operations Project Manager, where she interacts with clients and different industries.
"I think that's very distinct that I get to work with different industries, like travel and entertainment," Grace says. "You have business partners that are within these different industries. So when designing the customer journeys, you need to consider all of these touch points." 
Grace loves interacting with the diverse array of nationalities of her coworkers and has joined a Latin Women in Tech group in Dublin. 
For Grace, the Warwick MBA perfectly set up her career and gave her the knowledge, confidence, and network to launch an international tech career. 
"The careers team's advice to me was to look for companies where I have the best chances to grow, start working on my network, and contact people even if there aren't roles open because there's the possibility to build relationships over time."
Related Content: