Iconic Dublin nightclub hints venue has been bought by 'famous UFC star'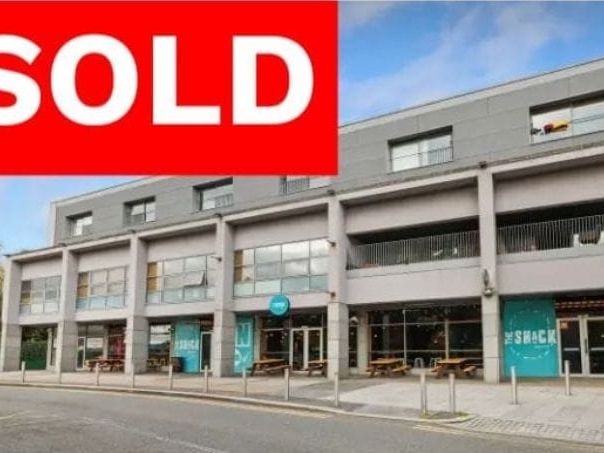 "It has been an incredible journey filled with laughter, music, and unforgettable moments"
Taking to social media, the Shack in Tallaght said the popular night spot was shutting its doors but that a new owner "has acquired the building, bringing excitement and anticipation for what's to come".
In the message posted on Facebook to "friends and valued patrons", it was revealed that "with heavy heart, I must share the news that our beloved pub, and nightclub will be closing its doors this Saturday.
"It has been an incredible journey filled with laughter, music, and unforgettable moments," the message reads.
"To our amazing DJs who brought life to our dance floors, the dedicated staff who poured their passion into every drink, the loyal customers who became like family, and the suppliers who kept our shelves stocked – thank you.
"Your contributions made this establishment more than just a business; it became a community."
We need your consent to load this Social Media content. We use a number of different Social Media outlets to manage extra content that can set cookies on your device and collect data about your activity.
It then hints at the new owner, saying: "As we bid farewell, I'm thrilled to share that a new chapter awaits for this space. Rumour has it that a famous UFC star has acquired the building, bringing excitement and anticipation for what's to come.
"Thank you all for being part of our story. Your support has meant the world, and we'll cherish the memories created here forever."
The Shack, on the Old Blessington Road in Tallaght Village, was formerly known as The Metro.
Locals in Tallaght who fondly remember the Metro days shared their memories of the popular spot, with one replying: "Yiz are welcome lads. Loved the crack and the journey. Made many friends and had many exciting episodes there. See yiz around."
While others reminisced on a time gone by, saying: "It will always be The Metro" and another adding: "So are we giving the Metro a send off Friday night?"
Another added: "It's been a pleasure, made my debut here as a DJ and have had some cracking nights, thanks for all the good times."
One famous UFC star has been busy recently snapping up various pubs and venues to add to his burgeoning property empire.
We reported recently how mixed martial arts fighter Conor McGregor, who founded Forged Irish Stout, has had an offer to buy a venue in the popular nightlife area of Temple Bar accepted.
Sources in the hospitality sector say the deal is expected to be finalised and announced in the coming weeks. The identity of the venue has not been officially revealed.
The Black Forge owner has been linked to numerous other venues after declaring on social media that he is expanding his operations
The Irish Independent also revealed how the Crumlin man has also bought a premises in the Marlfield Mall in Tallaght. Sources with knowledge of the deal said it was originally intended to be turned into six apartments, but it may now be used as a restaurant.
Documents lodged with the Land Registry show a company called Oakmount Investments Limited purchased the property in July this year. Its director is accountant Alan Geraghty, the man behind McGregor's property transactions.
Another company connected to Geraghty, Kildare Investments Limited, purchased a site in an industrial estate near Greenhills business centre in Tallaght during the summer.
Construction is now under way for 188 build-to-rent apartments on the site of the former Miller printing building and SCR Garage in Dublin 12.
The businessman is director of a number of companies linked to McGregor's entrepreneurial ventures. Emrajare Limited purchased several sites on Davitt Road, along the Grand Canal in Drimnagh.
Construction is now under way for 188 build-to-rent apartments on the Dublub 12 site after overcoming a series of planning delays – including concerns over Japanese Knotweed and the protection of bats.
Demolition work was completed during the summer. McGregor previously indicated the aim was to build up to 300 apartments in the area. On an adjoining site, the Marble Arch pub currently remains closed. McGregor, who was fined in court after assaulting a pensioner who refused to drink a glass of Proper No. Twelve, bought the venue in 2019 and said: "Yeah, and yer man is barred".
It was initially proposed to be turned into a 128-unit development, with a café, gym and artist and community space. However, it's understood the council deemed the plans to be too dense.
New plans are expected to be lodged for a slightly lower number of units, with the Marble Arch maintained. McGregor is estimated to have spent around €19m on the sites.
Another venue he bought in Howth is also currently lying idle with development still to get under way. No official plans have yet been lodged.
He purchased the Waterside Bar in Howth in 2022, with hospitality sources saying he may be considering turning the venue into a hotel.
McGregor's "we're not here to take part, we're here to take over" slogan, which he made famous following his MMA bouts, has now been adopted as a marketing strategy. Forged Irish Stout hit shelves earlier this year and has now launched in the UK, with advertising indicating it intends to take over the market. It will be available in the US and Canada later this month.
He has also bought the Porterhouse Brewery in Dublin, where Forged Irish Stout is currently brewed. The deal did not include any of the Porterhouse bars.
The Black Forge Inn in Drimnagh, the first pub McGregor opened, has become a tourist hotspot with regular appearances from celebrity figures. US rapper Snoop Dogg is the latest star to have graced the venue.
The pub recorded losses of €1.13m in 2021, with the owners saying the Covid-19 pandemic impacted trading.
A note attached to the accounts states that the premises only opened to the public on July 26, 2021 "when Covid rules allowed indoor dining but at a reduced capacity".
The company did not receive any state assistance through grants or aid throughout the financial period. Earlier this year, Liam Flynn, front-of-house manager at the Black Forge, said the pub is planning to expand worldwide including Abu Dhabi, Dubai, Boston, New York, Chicago and London.
Some of McGregor's business ambitions have also had an impact on those in his local community. The Irish Independent previously reported how a barber shop beside the Black Forge closed in September after 70 years of business because it could not afford a rent hike imposed by its landlord, the Conor McGregor-owned Jemi Ventures.
Vincent Roche, who took over the barbers after his father passed away, said there were "no hard feelings" towards the Black Forge, indicating he was given plenty of notice of the increase and left on good terms with the owners.
One of McGregor's first property projects was the building of eight social houses in Santry, north Dublin. Sycamore Residential Homes sold the properties to approved housing body Tuath for €3.5m in 2020.
McGregor took to social media to reveal his involvement in the project at the time. One of the directors of Sycamore Residential Homes is Alan Geraghty. Company records show liquidators were appointed to Sycamore last year following a special resolution to voluntarily wind up.
Aside from property and pub ventures, McGregor has also established a number of other businesses. A McGregor Fast app is available to download to "give you the tools to train like an elite competitor".
Tidl Sport, hemp-powered products which are meant to aid in performance recovery, was founded by McGregor. He has also founded August McGregor, a menswear brand created with US clothier David August.
In response to queries from the Irish Independent, Karen Kessler, a spokesperson for McGregor, said: "Conor McGregor is proud of the many businesses he owns, and the positive impact and contributions they have on the Irish economy.
"He is a prolific entrepreneur and is always pursuing opportunities to add to his portfolio."
According to figures from Forbes, McGregor was ranked 35th in its 2022 top highest earning athlete rankings earning $43m over a 12 month period before dropping off the list in 2023.