Latest win leaves St Paul's Killarney the only unbeaten team in Women's Division One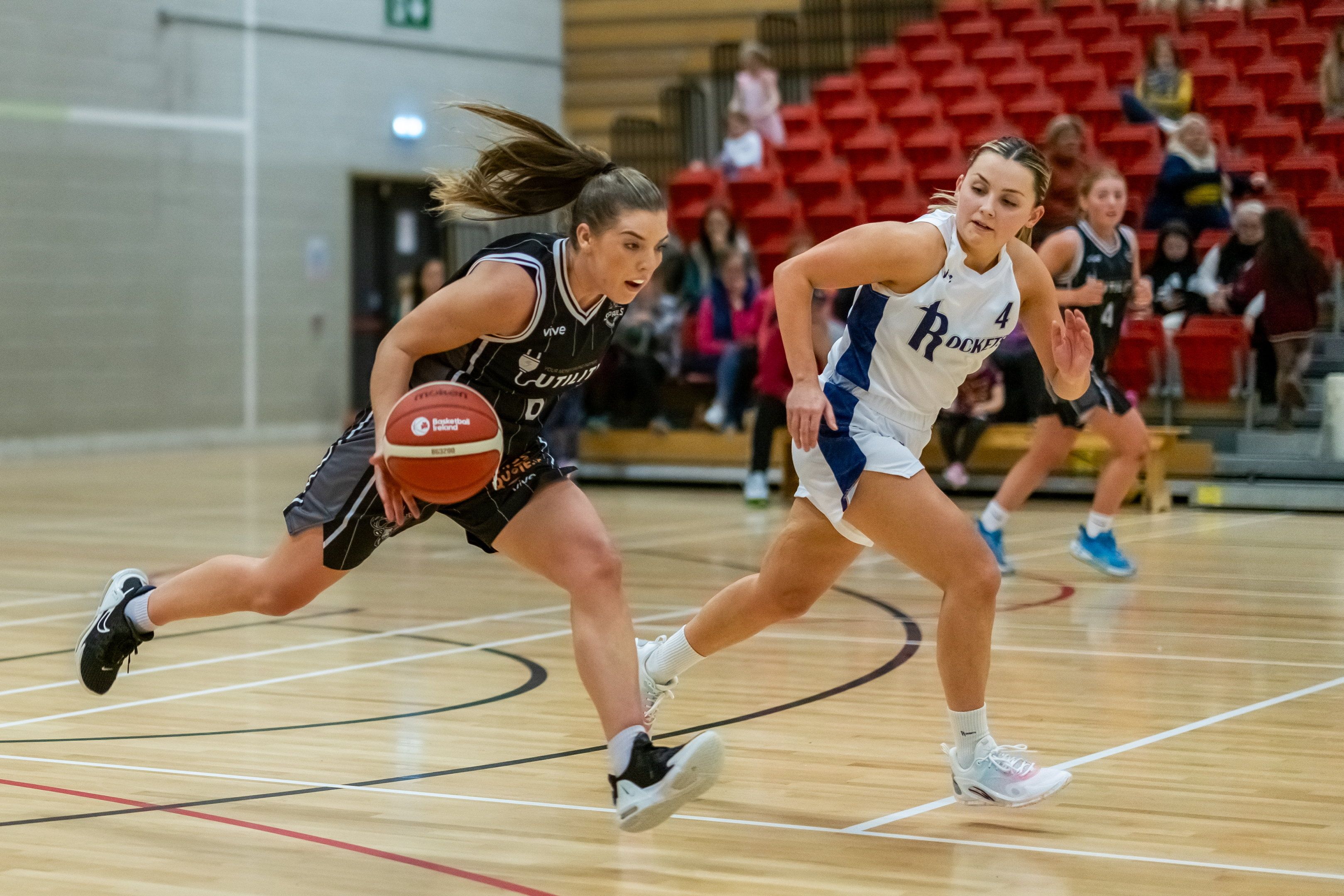 Utility Trust St Pauls dug deep for a two-point win at home to Phoenix Rockets, which keeps them top of Division One
Utility Trust St Pauls 73
Phoenix Rockets 71
(after overtime)
With Templeogue losing to the Limerick Sports Huskies the only unbeaten record in Division One, men and women, belongs to Utility Trust St Pauls, but they had to fight tooth and nail to get the better of the Phoenix Rockets after a period of overtime.
The Rockets landed in Killarney with a slightly weakened hand and a new American, Aaliyah Rice, who wasted little time settling in, scoring 30 points and giving the home side plenty of problems. Her compatriot Jay Ashby was smoothness personified while Anna Brennan, Charley McGrath, Nichola Rafferty and Rebecca Barker all contributed to a solid effort that fell just short for the visitors. The home side were without the outstanding Lorraine Scanlon, who was being honoured in Dublin with a much deserved football All Star.
They would be thankful for the interjections of MVP Leah McMahon, especially in an untidy first half where the Irish underage International kept the show on the road almost single-handedly. She passed the baton onto Rheanne O'Shea in the second half, O'Shea displaying good in game management to hit a crucial 17 points, including six in overtime.
"Trailing at half time, we knew we had to dig deep and step up our defence. Our fitness allowed us to go up a few notches on that count and we worked hard for our scores," O'Shea said. "Nothing was dropping [for me] from the three spot so I decided to move in closer and create inside, either drawing a pass or a lay up."
It was a wise move as it definitely paid dividends for James Fleming's side.
The opening quarter definitely belonged to the Rockets, ironically though after a scintillating start from the hosts. Lynn Jones hit an early three and Leah McMahon was rampant on the fast break as St Pauls opened up a 7-2 lead. Incredibly they would only muster two more points in the quarter courtesy of Sofia Paska as the Rockets had lifted off through the promptings of Nichola Rafferty and Rebecca Barker. Jay Ashby was also effective and the Rockets finished the quarter 16-9 to the good. St Pauls were struggling to find any fluidity despite running the bench and they looked off colour.
The second quarter still saw the visitors in the ascendancy as Aaliyah Rice was starting to find her feet and Anna Brennan with a three made it 23-11. An astute pass from Rheanne O'Shea to Paska yielded a nice basket but even that bit of fuel failed to fire up the engines. Rice and Ashby made it 27-13 and a time out was called to halt the momentum.
Khiarica Rasheed hit her opening basket, taking delivery of a Paska assist and McMahon hit a nice jumper to make it 27-17. The home side started to fall foul of the officials with a couple of technical fouls called and it summed up their frustration, more at their own performance than anything else. An incisive pass from McMahon found Denise Dunlea and she made it 30-19 at the break.
The interval saw St Pauls come out in a determined mood and Paska, McMahon and Rasheed immediately went to work on closing the gap. Coach Breda Dick called a Rockets timeout but Rasheed and Paska came out of the chat with further points to narrow the deficit to two. Rheanne O'Shea was walking a tight rope at this stage on three fouls as was Meabh Barry but the secret to Paul's success definitely was their ability to keep going even when things weren't happening for them.
Another Lynn Jones three, midway through the quarter, cut the gap to two and when Rasheed had a three-point play, it looked as if Pauls were ready to take over. But there was still a kick in the Rockets as Rice, Barker and Ashby all responded. It was at this juncture that O'Shea lit up. She set up Paska for a lay up, and went on to add seven points herself. Even then the Rockets responded again through the outstanding Rice and Brennan but the home side were certainly clicking through the gears.
The fourth quarter commenced with a Rasheed basket to make it 47-45 but Rice was proving hard to nail down and she helped them clear again at 55-47. Back came St Pauls, Leah McMahon leading the charge with further baskets from Rasheed and O'Shea and it was down to 57-54. Jones again popped up with a three and the game was level with 4.22 to go.
Rice with a smooth three-point play pushed the visitors ahead again but Rasheed with a lay up and a three saw Pauls ahead, a lead further bolstered by two O'Shea free throws. The script now read Pauls would get out with the win but Rice and Ashby tore that up with late baskets to force overtime.
Rheanne O'Shea was on four fouls at this stage but it didn't withered her input. Her six points and assist play set up Paska for what would be the game winning scores. It was never comfortable as Rice was a constant danger and her contribution sandwiched an Anna Brennan three pointer but the momentum was at last with the home side, who ran out 73-71 victors. A tight scoreline, one could argue 14 missed free throws made it harder, but a win that could make a team as well.
"They have very good Irish players and their two Americans were excellent. It was a great win because chasing a game is not a position we find ourselves in too often so I'm happy in the knowledge we can pull it out of the fire if we have to," coach Fleming said. "Lorraine Scanlon was a huge loss, delighted she got an All Star, and she is one of the best players in the basketball league as well."
Lynn Jones, Rheanne O'Shea and Leah McMahon came in for special mention. "In my first coaching job as a 16-year-old I had a ten year old Lynn Jones, she's been a great player for me and the way Leah and Rheanne performed tonight, we needed them and they came up trumps."
Top scorers
St Pauls: Khiarica Rasheed 19, Rheanne O'Shea 17, Sofia Paska 16, Leah McMahon 10, Lynn Jones 9, Denise Dunlea 2.
Phoenix Rockets: Aaliyah Rice 30, Jay Ashby 19, Anna Brennan 7, Rebecca Barker 6, Nichola Rafferty 5, Charley McGrath 4.
The big games keep coming for St Pauls as they travel to Dublin next Saturday to meet Templeogue, the same Templogue who only just lost their 100% record in the league. They will be chomping at the bit to get that Limerick Huskies defeat out of their system and will be looking to Lynn Tunnah, Alisha Lewis and a fully fit Madeline Holland to help them bounce back. Tip off in the Nord Anglia International School is at 5pm.