Masters 2023: The 13 best bets to win at Augusta National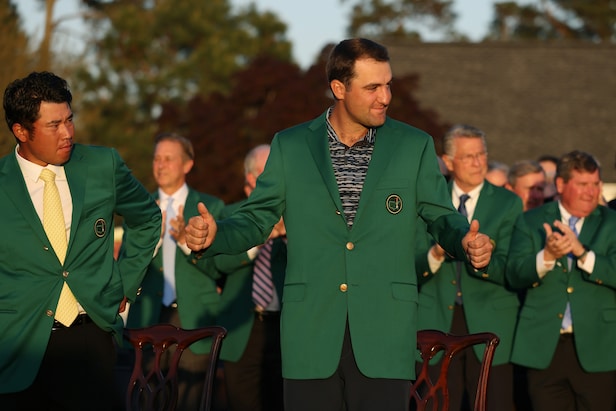 Scottie Scheffler is on another heater after cruising to victory at the Players Championship so is there any point in even doing this exercise? Right about now, we just hope someone can challenge the defending Masters champ on Sunday at Augusta National. But assuming this isn't a done deal already, and because we have unlimited space on the Internet, let's go ahead and rank our best bets heading into the year's first men's major.
Again, these aren't necessarily the 13 golfers—well, Scottie and a dozen others—with the best chance to slip on the green jacket. Rather, they're the 13 we think have a great chance to do that AND whose odds are the most appealing. Which is why you don't see a 20-to-1 Justin Thomas, who has two wins in nearly three years, on here. Sorry, Justin. Although, if I just reversed jinxed you, then you're welcome. And you won't find a 50-to-1 Tiger Woods on here, either. Anyway, here are our 13 best bets (odds via DraftKings) to win the 2023 Masters.
1. Scottie Scheffler (8/1)
Reason to pick: We have to stop overthinking things with this guy. He has been the winningest player on the planet the past 13 months and he's the defending champ.
Cause for concern: Hosting a champions dinner and winning is a lot to ask of any man. Although we're not sure how anyone could possibly complain about that chocolate chip cookie skillet dessert.
Reason to pick: He's been living on leaderboards of late and—not including Tiger and Phil—his track record here is second-to-none.
Cause for concern: He may be the worst closer out there and the scar tissue keeps building up after tough finishes at Bay Hill and Innisbrook. OK, maybe I have him up a bit too high … Anyway, moving on …
Reason to pick: He's the reigning CHAMPION GOLFER OF THE YEAR, arguably the best putter on the planet, and you can get him for 20-to-1 odds? Sign us up.
Cause for concern: Of course, part of that is because he's now playing on the LIV Golf League and we haven't seen him much since hoisting the claret jug.
Reason to pick: The same reason I pick him every year: He's Jon Rahm and he's bound to win a few of these things at some point.
Cause for concern: It's tough to bet on anyone at 7-to-1 odds.
Reason to pick: All he's done is finish runner-up and T-6 in two career Masters starts.
Cause for concern: The bad back—and that sometimes crooked putting stroke—are always a concern, but not as much when you go runner-up and T-6 in back-to-back years.
Reason to pick: As arguably the third-best golfer in the world right now and one of the best closers in the game, 25-to-1 odds seem pretty generous.
Cause for concern: Of course, there's that whole "He's never had a top-10 at a major" thing. And in three previous Masters starts, Homa has gone MC, MC, T-48.
7. Collin Morikawa (18/1)
Reason to pick: When he's on, he's the best iron player in the game. So you'd expect the same type of success at Augusta National that we've seen from Will Zalatoris, and a solo fifth last year has him on track.
Cause for concern: Surprisingly, he hasn't won a PGA Tour event since the 2021 Open Championship, and that big blown lead at Kapalua to start 2023 didn't help the confidence.
Reason to pick: It's been a resurgent year for this former World No. 1, who finished T-2 in his Masters debut way back in 2011.
Cause for concern: You have to go back pretty far (nearly five years) to find his last win anywhere as well.
9. Xander Schauffele (20/1)
Reason to pick: He always seems to lurk on major leaderboards, and the Masters is no exception with two top-three finishes in five starts.
Cause for concern: We're still having nightmares about his water ball on No. 16 two years ago so we're guessing Xander is as well. Come to think of it, we might swap JT in here …
Reason to pick: For all the talk of him failing to complete the career Grand Slam here (so far), McIlroy's résumé of seven top-10s in his past nine trips to Augusta—including a solo second last year—is pretty darn strong.
11. Tyrrell Hatton (40/1)
Reason to pick: He's playing the best golf of his life and is currently Data Golf's No. 8 player in the world following a runner-up at the Players.
Cause for concern: Let's start with him hating Augusta National. What a character. But we didn't like seeing him shaking out his hand during Day 1 of the WGC-Dell Technologies Match Play.
12. Patrick Cantlay (20/1)
Reason to pick: He's one of the best putters in the world and he made a Sunday charge at Augusta in 2019.
Cause for concern: He's only had one top-five finish at a major despite an otherwise sparkling career résumé.
Cause for concern: He nearly won a lot of events last year without, well, winning.