NFL Weather and Odds Watch – Week 12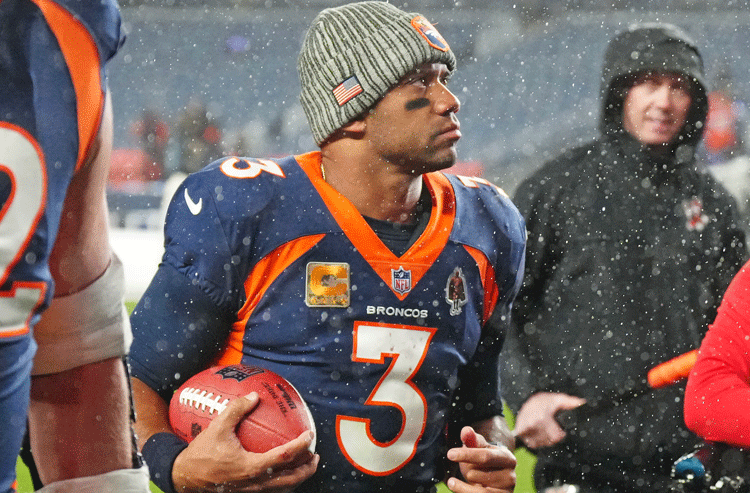 The Broncos welcome the Browns to Mile High on Sunday and while there is no rain, wind, or snow in the forecast, it is going to be cold cold cold in Denver. Will these frigid temperatures play into these defense-first teams' game plans?
Don't expect any Planes, Trains, and Automobiles wild weather delays this Thanksgiving Week, with Mother Nature taking it easy over the holiday.
That's not to say it's clear all over the country.
My NFL weather report runs down the schedule and highlights the outdoor contests that could be affected by wind, rains, or whatever, and how that weather will affect betting on the NFL Week 12 odds.
Miami Dolphins at New York Jets weather
The league's first Black Friday game could be a chilly one, especially in the second half of the Miami Dolphins vs. New York Jets.
The extended forecast calls for gusts up to 20 mph blowing NW from corner to corner at MetLife Stadium, which is somewhat sheltered from the East Rutherford elements.
Temperatures will "feel like" the low 40s when this AFC East encounter kicks off at 3 p.m. ET, but the mercury will drop in the second half as the sun begins to set and will feel more like freezing in the final frame.
It's cold but not, like, crazy cold, so I don't see this having any impact on the warm-weather visitors. Keep an eye on the wind, as there are conflicting wind speeds from different models.
All in all, I don't see many markets affected by Friday's forecast. I'd be more concerned about New York's QB rotation. Now that's a shit storm.
Pittsburgh Steelers at Cincinnati Bengals weather
As of Tuesday morning, we have a 40% chance of "cold November rain" for Paycor Field this Sunday. That will mirror the demeanor of Cincinnati Bengals fans after losing franchise QB Joe Burrow to a season-ending wrist injury.
The forecast for Cincinnati is soggy with "feels like" temperatures in the mid-40s and wind gusts up to 15 mph. That climate could add a little chaos for Bengals backup QB Jake Browning battling a very disruptive Pittsburgh Steelers defense.
These AFC North rivals actually boast the fewest giveaways on the season, turning the ball over only eight times each. Their defenses, on the other hand, sit tied for second in takeaways with 19 apiece.
The slippery weather could trigger more mistakes, given Cincy is rolling out its QB2 and the Steelers will be working with a new play-caller after firing offensive coordinator Matt Canada on Tuesday.
Interception props aren't out yet but could be live, and you can find a defensive/special team touchdown at +240 on the "Yes/No" two-way market.
Best NFL bonuses
 All Users
No-sweat 3+ leg SGP every day
Bonus bets back if your wager doesn't win! Claim Now

New Users
Up to $1,500 bonus bets back
If your first bet doesn't win! Claim Now
Eligible USA locations only. Also, see our full list of best sportsbook promotions for 2023.
21+. Gambling Problem? Call 1-800-GAMBLER
Carolina Panthers at Tennessee Titans weather
This game could hit a sour note in the Music City, with two rookie quarterbacks under center for two struggling teams. Mix in a little rain and the best show in Nashville this Sunday will be on Lower Broadway — not in Nissan Stadium.
The extended forecast has a 31% chance of rain when the Carolina Panthers take on the Tennessee Titans, with temperatures in the mid-50s and wind gusts topping out at 13 mph.
Slippery pigskins could be tougher to catch and rain may make it a little harder to push the ball downfield. Tennessee rookie QB Will Levis is up there in intended air yards but just 51.7% of his throws have been on target.
Carolina's passing game is much shorter and compact, with Bryce Young averaging just 6.2 intended air yards per attempt. That said, he's made some huge mistakes in recent games with foes taking his wayward throws back to the house for six points.
Cleveland Browns at Denver Broncos weather
It's going to be cold in Denver.
That's it.
Sunday's forecast is calling for "feels like" temperatures dipping to 25 degrees by the time the second half rolls around for this 4:05 p.m. ET start. Other than that, no snow, rain, or wind of note for Mile High.
Both teams are used to chilly weather and have hard-hitting defenses getting the job done, despite pop-gun offenses.
If we did have to highlight an edge, I'd give the nod to Russell Wilson at QB for the Denver Broncos having experience playing in frigid temps. He passed for only 114 yards but connected on three TDs in a win over Kansas City in Week 8 which was played with game-time temperatures of 26 degrees.
The Cleveland Browns are going with rookie QB Dorian Thompson-Robinson, who was born in South Carolina and played his college ball at UCLA, so this may be the coldest game he's ever played in for his career — maybe life.
The streaking Broncos are 2.5-point favorites.
Monitor gametime conditions with our live NFL weather info and learn how weather impacts NFL betting.

Stay updated with the latest picks, odds, and news! Tap the

to add us to your favorites on Google News to never miss a story.
Pages related to this topic