NFL Week 12 early odds: Cowboys double-digit favorites on Thanksgiving; Bills underdogs at Eagles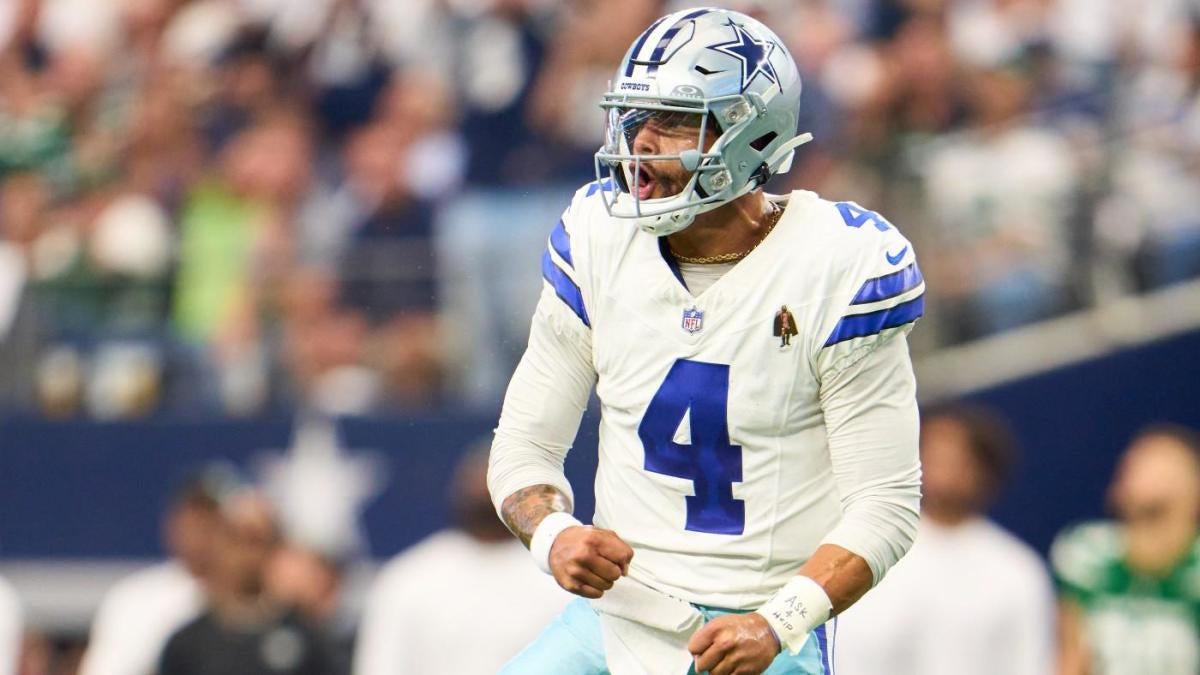 Week 11 in the NFL was a doozy. If you wanted upsets (like the Giants taking down the Commanders), you got it. If you wanted comeback wins (the Rams scoring 10 unanswered vs. the Seahawks), you got it. As for individual performances, Sunday's slate saw Brock Purdy accomplish a feat not done since Joe Montana. Whatever you were looking for, Week 11 delivered and we still have the best matchup in front of us with the Eagles and Chiefs squaring off on Monday night. 
As we wait for that game to kick off, let's take our first peek at all the Week 12 matchups — which include a Thanksgiving triple-header and a Black Friday game — and get our impression on the early lines to see if there is anything they can tell us about who the oddsmakers initially see coming out on top.
Week 12 early odds
(All lines via SportsLine consensus odds; all games on Sunday unless noted)
Lions -7.5

45.5

Packers +286, Lions -362

Commanders at Cowboys (Thursday)

Cowboys -11

48

Commanders +424, Cowboys -582

49ers at Seahawks (Thursday)

49ers -7

43

49ers -313, Seahawks +248

Dolphins -7.5

41

Dolphins -355, Jets +279

Falcons -0.5

41.5

Saints -108, Falcons -112

Steelers -1

34.5

Steelers -114, Bengals -106

Titans -3.5

37

Panthers +159, Titans -190

Buccaneers at Colts

Colts -2

42.5

Buccaneers +109, Colts -129

Patriots at Giants

Patriots -3.5

33.5

Patriots -185, Giants +156

Jaguars -1

47

Jaguars -114, Texans -106

Broncos -1.5

36.5

Browns +105, Broncos -124

Rams at Cardinals
Rams -1
46.5
Rams -116, Cardinals -105
Chiefs at Raiders
Chiefs -9.5
44
Chiefs -439, Raiders +336
Bills at Eagles
Eagles -3
47.5
Bills +144, Eagles -171
Ravens at Chargers
Ravens -4
46.5
Ravens -191, Chargers +159
Bears at Vikings (Monday)
Vikings -3.5
45
Bears +145, Vikings -173
Notable movement, trends
Packers at Lions (Thursday)
Featured Game | Detroit Lions vs. Green Bay Packers
The Lions have won four straight against the Packers and folks do seem to be backing Detroit in this Thanksgiving matchup. After opening at Lions -7, the line has crossed a key threshold and now sits at Lions -7.5. Dan Campbell's team is 3-2 ATS at home and hosts a Packers team that is 2-3 ATS on the road. Meanwhile, the total has held at 45.5 coming out of Sunday. As the home team, the Over is 3-2 for the Lions this season and is 3-2 for the Packers outside of Lambeau Field. When these teams met back in Week 4, the Lions edged out Green Bay, 34-20. 
Commanders at Cowboys (Thursday)
Featured Game | Dallas Cowboys vs. Washington Commanders
The Cowboys come into Thanksgiving as the biggest favorites of the Week 12 slate. They are laying 11 points to the Commanders, which bumped up from Cowboys -10.5 at the opening. Washington is coming off a demoralizing loss to the Giants on Sunday where the team committed six turnovers and watched as Giants QB Tommy DeVito tossed three touchdown passes. Now, they face a Dallas team that is much more talented on both sides of the ball and are 4-0 ATS at AT&T Stadium this year. The Commanders have been a strong bet on the road this season as they are 5-1 ATS away from FedEx Field this year, so something will need to give between these NFC East rivals. For his career, Dak Prescott is 5-0 against the Commanders at home with 13 touchdowns and zero interceptions.   
49ers at Seahawks (Thursday)
Featured Game | Seattle Seahawks vs. San Francisco 49ers
The 49ers are now a full touchdown favorite on the road over the Seahawks after this line initially opened at San Francisco -6. The Niners had a stellar win over the Buccaneers on Sunday where Brock Purdy threw for 333 yards and three touchdowns on 21-of-25 passing. Meanwhile, Seattle chocked away a win against the Rams, allowing L.A. to score 10 unanswered fourth-quarter points to drop to 6-4 on the year. This is the first time that these division rivals will play one another this season. The status of Geno Smith will be worth monitoring after he suffered a right elbow injury in the loss. The 49ers are 2-3 ATS as a road favorite this season, while the Seahawks are 2-2-1 ATS at home. This is the first time this season that Seattle is a home underdog. 
Dolphins at Jets (Friday)
The NFL's first Black Friday game is an AFC East showdown that does have some intrigue as it's currently unclear who will be starting for the Jets after Robert Saleh benched Zach Wilson in the second half of Sunday's loss to the Bills. At the moment, the Dolphins remain a 7.5-point road favorite and it'll be fascinating to see how this line shifts once there's some clarity on New York's quarterback situation. Miami is 2-2 ATS on the road this season but did win and cover their lone game as a road favorite. Meanwhile, the Jets are 3-2 ATS at home this year. 
Saints at Falcons
Featured Game | Atlanta Falcons vs. New Orleans Saints
Both of these teams were on the bye in Week 11 and now crash into a pivotal NFC South matchup. New Orleans is a game up over Atlanta for first place in the division. For the Falcons, the starting quarterback spot is a position that is still up in the air between Taylor Heinicke and Desmond Ridder. This game opened with the Falcons as a 1-point favorite, but that has now moved down to effectively a pick'em. Atlanta is 1-4 ATS at home this season, while New Orleans is 2-3-1 ATS on the road coming into Week 12. Currently, the total is at 41.5 and the Under could be a favorable way to lean. Between these two teams, the Under is 13-7 this season.
Steelers at Bengals
Featured Game | Cincinnati Bengals vs. Pittsburgh Steelers
The Bengals are entering the post-Joe Burrow world in Week 12 after the star quarterback suffered a season-ending wrist injury on Thursday. As you might expect, that dramatically changes how the oddsmakers look at Cincinnati, who are a 1-point home underdog to the Steelers with Jake Browning set to start at QB. Pittsburgh is 2-2 ATS on the road this season and failed to cover the lone time they were a road favorite. The Under is 8-2 for the Steelers this season and this game could be another low-scoring game with an unproven quarterback in for the Bengals. 
Panthers at Titans
Featured Game | Tennessee Titans vs. Carolina Panthers
Both of these teams were on the losing end of the scoreboard in Week 11 in a rather convincing fashion. The Titans were blown out by the Jaguars, while the Panthers had no answer for the Cowboys. In this matchup, Tennessee is a 3.5-point favorite, but that did come down from when it opened at Titans -4. Mike Vrabel's team is 3-0 ATS at home this season while the Panthers have yet to cover on the road, owning a 0-4-1 ATS record away from Bank of American Stadium.
Buccaneers at Colts
Featured Game | Indianapolis Colts vs. Tampa Bay Buccaneers
Indy was on the bye in Week 11 and that rest does seem to have them in a favorable view of bettors. The Colts are now a 2-point favorite over the Bucs after opening at -1.5. Of course, it'll be interesting to see if this line sniffs the critical number of three at any point. The Colts are 2-3 ATS at home this season Tampa Bay has been stellar on the road, owning a perfect 5-0 ATS record. 
Patriots at Giants
Featured Game | New York Giants vs. New England Patriots
If you're looking for offense, you may want to look elsewhere as this matchup between the Patriots and Giants owns the lowest total on the Week 12 slate at 33.5. That dropped a half-point from the opening total of 34. Neither one of these teams owns a prolific offense, but the Giants did impress on Sunday with a 31-point effort in the win over the Commanders where Tommy DeVito threw three touchdowns. That performance didn't do much to sway the oddsmakers, however, as the Patriots — who were on the bye in Week 11 — are a 3.5-point road favorite. New England is 1-3 ATS  on the road this year, while the Giants are 1-2-1 ATS at home.
Jaguars at Texans
Featured Game | Houston Texans vs. Jacksonville Jaguars
This is a massive showdown between two AFC South rivals that will have serious playoff implications. Not only are these teams separated by a game for first place in the division, but a loss by the Texans could throw a wrench into their hopes as a wild-card team. Jacksonville is a slim 1-point road favorite in this matchup. Houston is 2-3 ATS at home this season, while the Jags are 3-0 ATS on the road. Two of those ATS victories also came as a road favorite.
Browns at Broncos
Featured Game | Denver Broncos vs. Cleveland Browns
Both of these AFC teams are playing well at the moment and are making a legitimate push for a playoff spot. The Browns are currently in as a wild card team after moving to 7-3 with a win over the Steelers despite losing Deshaun Watson for the year. As for the Broncos, they've won four straight to move to .500 on the year. Denver is a 1.5-point favorite in this Week 12 head-to-head, but they have been a tough bet at home this year. Sean Payton's team is 2-4 ATS — including a failed cover vs. Minnesota in Week 11 — at home. That said, Cleveland hasn't exactly been a road warrior as they are 1-2-1 ATS away from Cleveland Browns Stadium. With the total at 36.5, this could prove to be a defensive-led effort for both clubs.  
Rams at Cardinals
Featured Game | Arizona Cardinals vs. Los Angeles Rams
The Rams are a 1-point road favorite over the Cardinals, but it does seem like faith is being built toward Arizona. This line opened at Rams -2.5, so there does appear to be money coming in on Arizona, which makes sense considering that Kyler Murray has looked solid since making his season debut a few weeks ago. That's also not mentioning the uncertain status of Rams wideout Cooper Kupp, who left Sunday's win over the Seahawks due to injury. L.A. is 2-2-1 ATS on the road this year and 1-0 ATS as a road favorite. Meanwhile, the Cardinals have played well at home this year no matter who has been under center, and are 4-1 ATS. 
Chiefs at Raiders
Featured Game | Las Vegas Raiders vs. Kansas City Chiefs
There could be more movement with this line after the Chiefs face the Eagles on Monday night, but K.C. is currently a 9.5-point road favorite over Las Vegas. The Raiders fell to the Dolphins on Sunday and saw quarterback Aidan O'Connell throw three interceptions in the losing effort. Las Vegas is 4-1 ATS at home this season and did cover the only game they weren't favored at Allegiant Stadium. As for the Chiefs, they are 2-2 ATS as a road favorite in 2023. 
Bills at Eagles
Featured Game | Philadelphia Eagles vs. Buffalo Bills
Similar to the Chiefs-Raiders game, this line could see more movement once the Eagles wrap up their Week 11 game on Monday night. That said, there is already some movement with this game. Philadelphia opened as a 3.5-point favorite and that has since dropped to just a field goal. That was likely sparked by the Bills' solid win over the Jets on Sunday, which snapped a two-game losing skid. Lincoln Financial Field is one of the toughest places to play in the NFL and the Eagles are 2-1-1 ATS at home this season. As for Buffalo, they've struggled on the road this year and have largely been a team to stay away from when they are not at Highmark Stadium. On the road, Sean McDermott's team is 1-3 ATS. 
Ravens at Chargers
Featured Game | Los Angeles Chargers vs. Baltimore Ravens
The Ravens are a 4-point road favorite in this game against Los Angeles and there doesn't seem to be much movement even with Lamar Jackson's go-to target Mark Andrews going down with a serious ankle injury last week. That probably speaks to the Chargers, who continue to falter in one-score games under head coach Brandon Staley. The Chargers are 2-3 ATS at home this season but do host a Ravens team that is 1-2 ATS as a road favorite. 
Bears at Vikings (Monday)
Featured Game | Minnesota Vikings vs. Chicago Bears
Minnesota has been one of the better bets on the season with its 7-3-1 ATS record. While they've been steady, one of their weak areas has been at home where they are 2-3 ATS. Meanwhile, the Bears are 3-3 ATS on the road, but Justin Fields did look solid in his return to action this week, rushing for 104 in a near upset over the Lions so Chicago could be live here, especially when they are getting 3.5 points. The total for this game sits at 45. The Under is 4-1 for the Vikings at home this season, while the Over is 4-2 for the Bears on the road.