The indies' guide to the golden quarter
Jo Davies, founder, womenswear boutique Black White Denim, Wilmslow, Cheshire
I have a good feeling about autumn/winter 2023. We have started strong, despite the dramatic changes in the weather. We were selling knitwear in August and sold coats [in the first week of September] during the heatwave. We expect shoppers to buy early to ensure they secure their looks for the season ahead because people were caught out last year and couldn't get what they really wanted [Black White Denim's roster of more than 30 brands includes Scandinavian staples Axel Arigato and Samsøe Samsøe, and LA labels Agolde and Rails]. Shoppers are wising up to less supply fuelling more demand for products. Despite the cost of living crisis, our customer is happy to invest in quality with a "less is more" attitude to their wardrobe. They will shop early for Christmas to make sure they get exactly what they are looking for. You have got to be able to be agile and flexible as a business by using data to predict sales, but have a plan B if your prediction is wrong. It is going to be an exciting couple of months.
Although we will not add to the team during the busiest quarter, we will add hours for part-time staff, if required, on a week-by-week basis, so I cannot say how much at this stage. Budgets are strictly managed according to turnover, and keeping them tight has been crucial for our recent [positive] performance. At under 20%, our returns rate is low and this tends not to increase, even during the seasonal period. We do not acknowledge Black Friday: it does not it with our ethos, but we will start our Sale just before 25 December, as in previous years – but the date is TBC.
Alison McGrath, founder, children's footwear retailer My First Steps, Ennis, County Clare, Ireland
I always start my golden quarter preparations in the summer: thinking about new products, brands or services we might be able to offer, reviewing what worked last year and, of course, what did not. As a new business only established in 2022, this year has been a brilliant opportunity to build our community and brand awareness, and now we are harnessing the energy and momentum for a fantastic golden quarter. Despite the cost of living crisis, most people are happy to spend, as long as they feel they are getting value by investing in single higher-quality purchases over mass throwaway products. And that is where the opportunity lies for independents: we seek out the best products, and curate collections that are exciting and unique. We are even able to ask our customers what they want, and then react quickly to the market with amazing online wholesale platforms – I use Faire and Ankerstore – that I think have completely changed the landscape. For My First Steps, this means taking the humble gift voucher and packaging it in a way that is unique to us in a Christmas cracker (left), only buying products that we truly believe will perform well and getting our online store live as soon as possible.
To maximise the opportunity of the golden quarter, the most fundamental thing is to have reviewed your financial results and know what cash ow is available, review the learnings from last year and then strategise from there. For example, in December, our online gift voucher business grew by compared with the rest of the year, since we began trading in June . This is a key area for us in in terms of our marketing spend, and voucher delivery moving to the option of e-certificates, as well as physical vouchers. This should enable us to capture the "last minute" buyer and remove the implications of relying on last posting dates. We will not be participating in Black Friday – at least not in the traditional sense. Last year, we took part in "Green Friday", which is a campaign to champion small Irish businesses and offer customers added value. We will consider participating again – most likely with a donation to our charity partners, Hugh's House and Cliona's Foundation, with every purchase made that weekend.
Leonie Garrard, director and retail manager of womenswear, homeware and haberdashery, Milners of Leyburn, North Yorkshire
The period between September and December is always our busiest in store [where we stock British staples such as Seasalt, Joules, White Stuff and Crew Clothing]. Since our customers returned from their summer holidays and the nights have begun to draw in, their attention shifts to planning for Christmas, which is relected in spending habits. We see an increase in sales in our accessories and gifts departments, and we expect this to continue this year as people spread the cost of Christmas. As our ecommerce sales have become busier [up 65% since the start of 2023, compared with the same 10-month period in 2022], we have had to take on two members of staff and we are recruiting an apprentice to manage the web stock and orders. It has always been important to us that our standards of customer service are consistent, whether you shop in store or online. We have also recently – in August – reviewed our returns policy to tighten up on the state that clothing should be in when returned [empowering the staff to be able to challenge a return more conidently]. It can be difficult as an independent retailer to set boundaries with returns, but we need to make sure we are managing this in a way that does not hurt our bottom line. Since August we have had only one return.
Rather than pre-Christmas Sales, we prefer to reward our customers for their loyalty throughout the year with our rewards points [for every £1 spent in-store on eligible purchases, customers will earn five points, which they can redeem when they reach 200 points]. Many customers save their points to use at Christmas – whether that is on gifts or a treat for themselves. We do hold Boxing Day Sales, and we tend to mirror the reductions [on the direct-to-consumer channels] of the brands we stock.
Patrick Bourke, owner, menswear independent Patrick Bourke, Ennis, County Clare, Ireland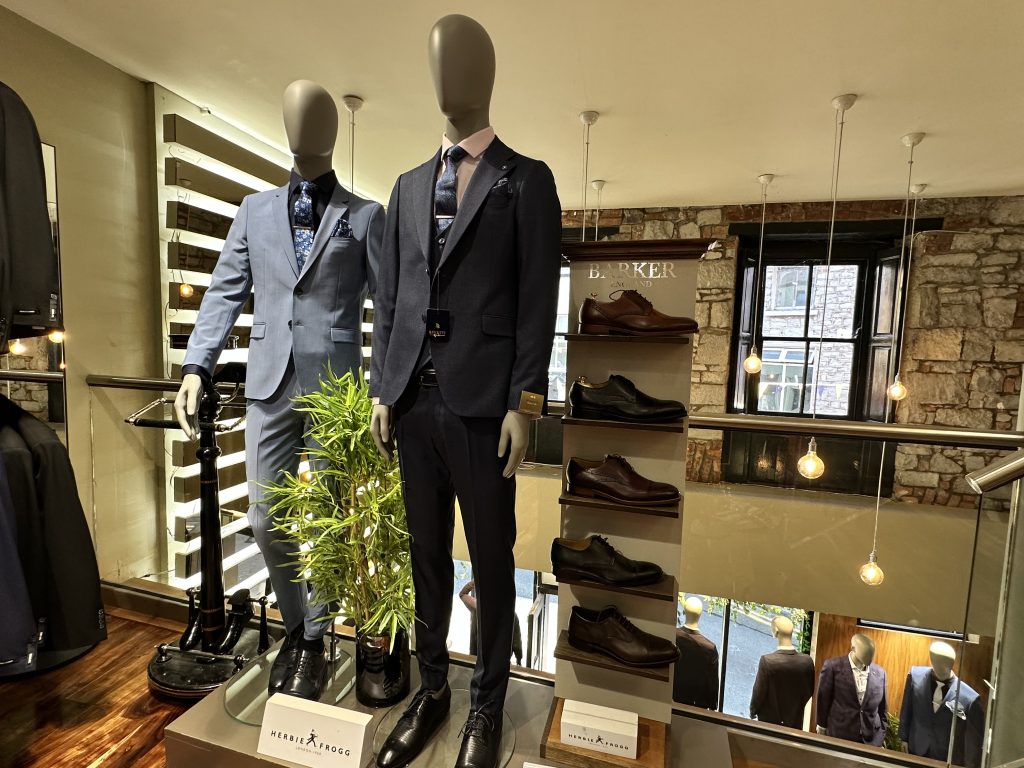 Autumn 2022 was consistent [with last year's trade] and very strong. We are expecting the same this year and have stocked accordingly [in categories such as casualwear, which performed well at the start of autumn/winter 23, and includes Superdry sweatshirts and Vans trainers]. For [the golden quarter], we try to push out our stock deliveries to late September and early October with a second delivery for late November, to cover Black Friday and December [when footfall in the store increases]. Our additional staff cover comes from our summer staff pool. Because our store stretches over four floors, we have 16 full-time staff, and for the golden quarter, we will have between four and six additional part-time staff. We trade seven days a week in November, December and January. The rest of the year we close on Sundays. On Black Friday weekend, we open for longer – 7am to 8pm – to cater for that intense period.
Black Friday has become an important and significant part of our trading calendar. Typically, we would run our Black Friday Sale to cover two weekends [this year starting on 18 November and] ending on Cyber Monday [on 27 November]. Our offer would be 20%-50% off with an extra incentive to drive early morning trade. Last year we offered 20% off our autumn/winter range, with an extra 10% off 7am to 8am to drive footfall. This worked quite well, as customers were on the way to work and took the opportunity to pop in store to grab a bargain. This has been very successful for us. We have seen that this has [negatively] impacted our Sale after Christmas, but not to an extent that we would consider changing our tactic. I would be more concerned if Black Friday began to impact early December trade, but as yet, this is not the case. We reopen on 27 December for our Sale and run the five days similar to our Black Friday. We use January for clearance before it all starts again.
Ian Lockett, owner, menswear independent Westdaw Menswear, Dorking, Surrey
Autumn is not the strongest season for menswear. December is our best month of the year – sales are twice as big as any other month. We always do very well, especially for a small town such as Dorking. I think consumers will probably be buying Christmas gifts earlier again this year, but people will always come to us for last-minute purchases. Usually, they have been let down by the internet, or they want to buy something really special – those are the two key reasons why we do so well in December. As we deal with big brands such as Gant, Lacoste and Hackett, we have to commit our orders six months in advance, so ensuring that we have the right stock and quantities is an expert blend of intuition and hard data. I look at what we sold last year, where we missed opportunities, feedback from customers, the expected style looks and hottest gift items – and a big dose of what I want in the shop! We can then order top-ups as we go through the season, depending on what's available and what's selling well.
This year, with Christmas Eve on a Sunday, we expect it to be one of the busiest days of the year. We always open on Sundays in December and it's always worth it for us, and it will be good to have a little bit of additional staff support. This year, we hired one Saturday person, who started in October and will also help out at the Christmas fair on the high street – where we will have a stall for the first time this year. Customers love the annual Christmas market event, which is on the first Sunday of December, organised by our excellent Dorking business improvement district – this really kicks off our Christmas business. We only ever go to Sale twice a year: from Boxing Day into February and then from July to August. We do not discount outside the Sale. This is because, for a small independent business, we have tight net margins, high rent and business rates – and of course we have to staff the store. I don't understand retailers who give it all away on Black Friday – yes, you turn the stock through, and you get some sales volume, but you are losing all that pro t, and it seems crazy to me. We start our winter Sale on Boxing Day online, but we do not open the shop – we like to have a few days o for the family and for our staff as well. A lot of our customers will click and collect after we reopen the store on December, and we do have a really strong customer base up and down the country, including in Northern Ireland. Posting orders will be our first job when we come back on December. We will come in a couple of hours early, making sure the online orders are ready to go.
Anne Tucker, co-owner, womenswear boutique Costume, Dublin, Ireland
With all the talk of the cost of living crisis, we are hoping for this coming golden quarter to stay the same as last year's [positive performance]. That being said, we have a good mix of [retail] price points to appeal to a broad spectrum of customers [from €35 (£30) for a pair of cotton Maison Labiche socks to €1,690 (£1,441) for an Yves Salomon parka coat]. The fourth quarter of 2022 was the first autumn/winter season we had fully come out of store closures due to the Covid-19 pandemic, so inevitably we had a much better season than the previous year. It also was the first time we could really see the benefit of all the efforts [including growing our social media following] we had put into our digital presence over the Covid-19 period. Our online store sales grew by 300% [between March 2020 to late 2022] and the concern was that it might fall off once the store reopened. However, we were pleasantly surprised, once the store reopened, we had even more footfall than before the pandemic, as our audience had grown so much.
For Black Friday, we discount the autumn/winter collection by 20% for that weekend [24-26 November] only. It now seems to mark the beginning of the Christmas shopping period, as it does in the US, so in some sense it puts some structure on the festive period. How soon the Christmas gift buying starts can generally depend on the weather. If it is a cold November, people generally get Christmassy. If it is warm, it will start a little later. We are very busy every week with deliveries and orders, so while sales have ramped up for Q4, our team [of eight employees] have it all under control. We will be open seven days a week in the two-week run-up to Christmas, and then close for four days after Christmas Eve. Tracy [Tucker, Costume co-owner] and I value family time for us and for our team. Our sale starts online on Christmas Day, so we try to switch off until 29 December [when the store reopens].