The Indo Daily wins big as Mediahuis Ireland scoops five top prizes at Irish Podcast Awards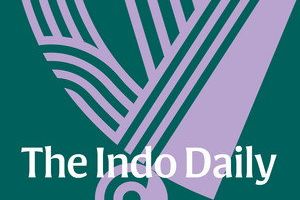 The Indo Daily, hosted by Kevin Doyle, Fionnán Sheahan and Siobhán Maguire, took home the prize for Best Daily Podcast. The show regularly takes a deeper dive into the stories that matter most to readers.
The Big Tech Show, hosted by the Irish Independent's Technology Editor Adrian Weckler, claimed Best Business Podcast of the Year for its exploration of the latest technology news.
The prestigious sold-out ceremony was held in the Morrison Hotel in Dublin and presented by The Group Chat podcast hosts Zara King and Richard Chambers of Virgin Media News. It celebrated the best podcasts on the island of Ireland in the past year, with awards handed out for news, crime, sport, entertainment and a variety of other categories.
Real Health with Karl Henry took the plaudits for the best podcast in the wellbeing category, while The Belfast Telegraph won Best News and Current Affairs podcast, which has been described as "an amazing achievement for a small team" led by Ciaran Dunbar and Graham Davidson.
Crime World from the Sunday World's investigations team was the final Mediahuis Ireland podcast to win on the night, coming first in the commercial strategy category.
Editor-in-chief of Mediahuis Ireland, Cormac Bourke, said the way people consume news was evolving but the journalism "remains the same".
He said podcasts now formed an "integral part" of the Irish Independent and Belfast Telegraph newsrooms, with the real reward being the growing listenership that showed "people like what we are doing".
He also commended the work of The Left Wing Podcast, which was shortlisted in the Sport category.
"Our sports team put in an amazing shift at the Rugby World Cup earlier this year bringing daily podcast reports from France alongside their writing and video on the Irish Independent," he added.
Group audio producer Mary Carroll described winning five prizes at the awards as an "amazing achievement" for the team.
Ms Carroll said that the team started two years ago to try to bring the quality journalism already on display in Mediahuis's newspapers and websites to a new audience through audio.
"For many journalists who have traditionally worked in print, this was a jump but the rewards have been many. We now see a newsroom that is really engaged in making podcasts and often reporters are battling to get their stories onto The Indo Daily and The Bel Tel," Ms Carroll said.
Other winners on the night were Vogue Williams and Joanne McNally's My Therapist Ghosted Me, which won the Spotlight Award, and the hugely popular The Blindboy Podcast, which claimed the Podcast Champion award, while the Listeners Choice was awarded to the Talking Bollix Podcast.
Podcast of the Year went to The Troubles Podcast by Óisín Feeney, The 2 Johnnies Podcast won best comedy show and Documentary on One: Blackrock Boys won the best documentary podcast.