Top 10 BEST vintage shops in DUBLIN for all your thrifting needs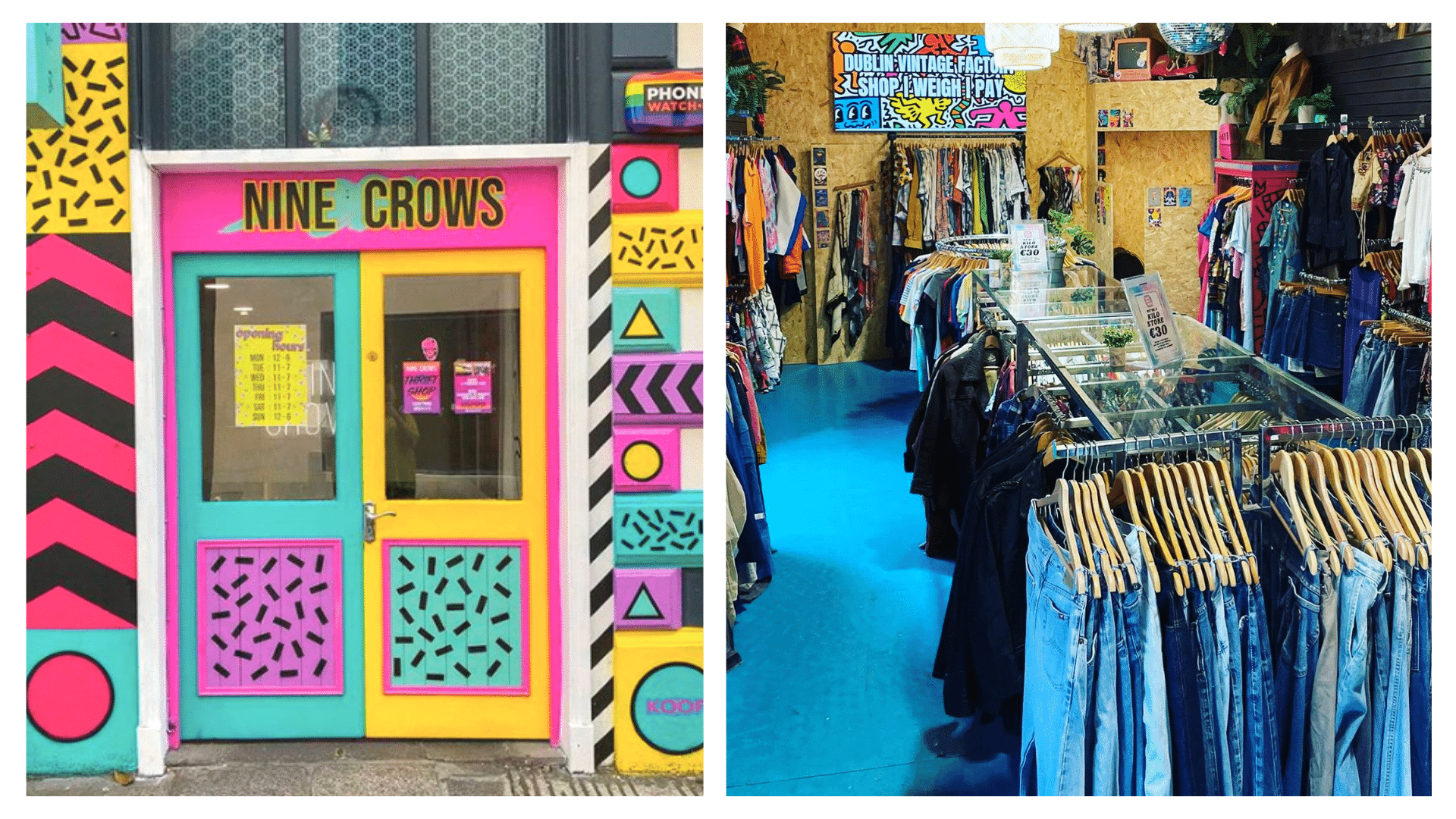 Looking for a unique piece of clothing to stand out from the fast-fashion crowd? Check out these ten vintage shops in Dublin for all your thrifting needs.
In the era of late capitalism, fast fashion retailers have us all dressed the same. And don't get us started on their adverse effect on the environment.
Are you looking to stand out from the crowd, reduce your carbon footprint, and look stylish in clothes from different eras while doing so? Then you have to check out our list of the best vintage shops in Dublin.
Set aside plenty of time for vintage shopping, as you'll likely lose track of time in some of the city's veritable Aladdin's caves.
The Temple Bar area has the greatest concentration of vintage stores in the city.
Shopping in the city's charity shops benefits not only your wardrobe but also the lives of people in need in Ireland and beyond.
Keep an eye out for seasonal flea markets across the city.
10. Loot – quality over quantity
Loot's ethos is certainly one of quality over quantity. So, while their small Drury Street shop might not house a wealth of clothes, you can rest assured that what lies within has been carefully curated.
Address: 23 Drury St, Dublin 2, D02 YE26, Ireland
9. Lou's Lot – for designer items
If it's high-end designer vintage you're after, you can't go wrong with Lou's Lot. From Prada handbags and Gucci purses to Yves Saint-Laurent watches, Louis Vuitton totes and Chanel coats, Lou's Lot has it all.
Bear in mind, however, that big names often come with big price tags. This is one of the best vintage shops in Dublin for seeking out designer deals.
Address: George's Street Arcade, South Great George's Street, Dublin 2, Ireland
8. Siopaella – a focus on handbags
Siopaella is another spot for designer vintage. It focuses mostly on handbags but also has a selection of clothing and accessories, including sunglasses, belts, scarves, and wallets.
Address: Siopaella, 30 Wicklow Street, Dublin, D02 Y037, Ireland
7. Om Diva – different floors, different concepts
Om Diva's Drury Street shop is divided into three floors, each with a distinct concept. The ground floor and upstairs both offer various contemporary designs by Dublin clothiers, while the basement is home to the vintage section.
Address: 27 Drury St, Dublin 2, D02 TK75, Ireland
6. Jenny Vander – a Dublin institution
Jenny Vander's has been a Dublin institution since it opened its doors back in 1974. Much of its stock dates back to the 1960s, and it boasts an excellent selection of cocktail dresses, jackets, and jewellery.
Address: 50 Drury St, Dublin, D02 K462, Ireland
5. Dublin Vintage Shop – one of the most affordable vintage shops in Dublin
Dublin Vintage Shop is a local favourite owing in no small part to its quality vintage pieces at agreeable prices.
On top of some excellent clothes, you'll find lots of great bric-a-brac and ephemera in this Capel Street vintage shop.
Address: 4 Capel St, North City, Dublin 1, D01 CX68, Ireland
4. Tola Vintage – some of Dublin's most unique clothing
In the heart of Temple Bar, Tola specialises in 80s and 90s clothing from all over the world, making its stock some of the most unique in Dublin.
The staff even rework certain items, making them more wearable and current, meaning that Tola really is the place to go for unique vintage shopping in Dublin.
On top of the Fownes Street flagship, Tola also has outposts at Aungier Street and College Green.
Address: 10 Fownes St Lower, Temple Bar, Dublin, 2, Ireland
3. Nine Crows – two Dublin locations
Nine Crows Vintage opened in 2008 on Temple Lane and offers well-curated 90s and 00s clothing and accessories from this flagship store.
To cater to a thriftier market, they opened a second Dublin location on Mary Street in 2019. Operating under the name Nine Crows Thrift Shop, everything is priced between €2 and €30.
Both Nine Crows shops are worth a visit, depending on your taste and budget.
Address: 22 Temple Ln S, Temple Bar, Dublin, Ireland
Address: 8 Mary St, North City, Dublin, D01 CY26, Ireland
2. Dublin Vintage Factory – pay by weight
Dublin Vintage Factory has lots of vintage items spanning decades, with lots of its stock coming from the 80s and 90s, and all of it carefully hand-picked and curated.
Nothing has a fixed price in Dublin Vintage Factory. Instead, you pay by the kilo (€30). This is worth bearing in mind before approaching the counter with tons of clothing!
Address: 1 Merchant's Arch, Temple Bar, Dublin, D02 YD98, Ireland
1. Lucy's Lounge – serving Dublin for over 40 years
Lucy's Lounge has been providing the people of Dublin with great vintage clothing for more than 40 years from its bright pink shopfront on Fownes Street.
Visitors meet with an array of exquisite jewellery on entering Lucy's Lounge at street level, then a trip downstairs opens up a seemingly endless trove of clothing that is either vintage, preowned, handmade, or upcycled.
Address: 11 Fownes St Upper, Temple Bar, Dublin 2, D02 XW64, Ireland
Notable mentions
Charity shops: Dublin is home to many charity shops, like Oxfam Ireland, Enable Ireland, SVP, Dublin Simon Community, Vision Ireland, and the Irish Cancer Society.
These are often great shops for finding quality items at agreeable prices. On Camden Street alone, there are five different charity shops in quick succession.
Markets: Plenty of markets regularly take place in Dublin. Among the most popular are the flea market at the Digital Hub in the Liberties and the Le Zeitgeist flea market in Phibsborough.
Slaughterhouse: Heading south from Dublin, you'll find Slaughterhouse in Dún Laoghaire. This great little shop is packed full of colourful 90s-style vintage clothes at decent prices.
Badlands: Badlands has a lovely, friendly atmosphere that keeps its regular customers coming back to flick through its wide range of clothing, which, on top of vintage items, includes Badlands-branded hats, t-shirts, and workwear.
Your questions answered about vintage shops in Dublin
If you've still got questions about vintage shops in Dublin, you've come to the right place! In this section, we answer some of our readers' most frequently asked questions about this topic.
What part of Dublin offers the best vintage shopping?
Dublin's famous Temple Bar area offers the best vintage shopping. Here, you'll find many of the entries on our list of the best vintage shops in Dublin, including our top four – Lucy's Lounge, Dublin Vintage Factory, Nine Crows, and Tola Vintage.
Is there good thrifting in Ireland?
Yes, there is good thrifting in Ireland, particularly in its cities. Keen thrift shoppers can avail of excellent pieces of clothing, often at bargain prices.
Where do vintage shops buy clothes?
Vintage shops buy clothes from numerous sources. These include estate sales and auctions, dead stock, film costume archives, and flea markets, among others. They even buy clothes from other vintage shops.
More Dublin travel articles
Dublin Bucket List: 25+ best things to do in Dublin